Adults recall 'nasty playground pranks'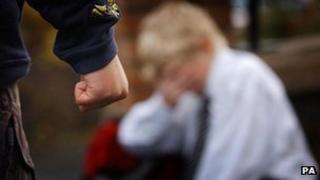 Nearly half of adults schooled in the UK were at the receiving end of nasty playground pranks, a survey suggests.
The poll of the 1,844 adults who attended secondary school in the UK suggests some 27% recalled being given a "Chinese burn".
And 22% of those polled for Opinium Research said they were tripped up in the playground.
Meanwhile three-quarters admitted disobedience such as skipping class or fighting with classmates.
Some 36% admitted to not doing homework, 30% to bunking off lessons and 23% to being late for school while 16% said they had talked back to their teacher.
Just 1% of all those polled admitted to bullying, but many more were happy to admit that they had been subjected to experiences that may be construed as bullying today.
One in 10 said they had had a rude note stuck on their back, while some 6% had been towel-whipped.
The independent research company said it had surveyed a nationally representative panel of adults who attended secondary school in the UK and had wanted to get a feel for adults' memories of their school days and their attitudes towards them.
James Endersby, managing director of Opinium Research, said: "Whether you were a loner or a class clown most of us have fond memories of our school days.
"Recollections of secondary school often centre on the mischief of the playground and the pranks that many of us may have been at the receiving end of as kids.
"For some these memories are much stronger than anything they were ever taught in the classroom!"