International students pay premium at UK universities
By Judith Burns
BBC News education reporter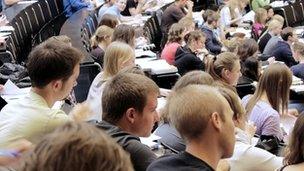 Students from outside the EU will pay up to four times the fees charged to UK students next year suggests a survey.
Some undergraduates will pay up to £35,000 a year - against a maximum of £9,000 paid by UK and EU students.
Researchers for The Complete University Guide asked 110 universities across the UK how much they plan to charge in tuition fees in 2013-14.
The National Union of Students said international students should not be treated as "cash cows".
The maximum fees payable by UK and EU students at universities in England and Wales trebled last year to a maximum of £9,000.
More than half of institutions now charge the maximum fees though fees start in some universities at £6,000.
Scottish and EU undergraduates at Scottish Universities will pay least, with fees of £1,820 a year.
However, the new figures in a survey of tuition fees by the guide reveal a far broader range of fees for non-EU students.
Undergraduate fees charged to international students in 2013-14 start at £7,450 for lecture based courses and rise to £35,000 for undergraduate medical degrees.
International medical students at King's College London will be looking at fees of £35,000 and at UCL £33,750.
International clinical fees at medical schools in Sheffield, Southampton, Glasgow, Manchester, Nottingham, Bristol and Cambridge are all more than £30,000.
There is an equally large discrepancy in fees for taught postgraduate courses.
Fees range from £2,000 to £27,500 a year for home and EU students but postgraduate students from outside the EU will pay fees ranging from £7,900 to the £38,500 charged to postgraduate medical students at Queen Mary University London.
The highest prices are paid by business students at the University of Oxford - which charges £41,000 for an MBA to both home and international students.
Daniel Stevens of the NUS said: "It is scandalous that non-EU students are charged fees that can be thousands of pounds higher than those for other students.
"International students are an important part of the social, cultural and academic make-up of university life and should not be treated simply as cash cows.
"On top of this many have no idea what their fees will be from year to year and are sometimes forced to pay for huge unexpected increases in order to continue a course they've already started.
"Universities that truly value their international students should be clear about the real cost of their courses allowing them to budget properly and start a course knowing they will be able to afford to finish it."
A spokeswoman for the umbrella body, Universities UK, rejected any suggestion that UK universities regard international students as "cash cows".
She said: "It is worth remembering that international student fees are not regulated, as is the case with home fees. UK universities compete in a global market for international students, and their tuition fees reflect this.
"The UK remains the second most popular place to study in the world after the United States and international students here report high levels of satisfaction with their experiences.
"International students come here to study because of our reputation for having a quality higher education system and degrees that are recognised around the world."
Related Internet Links
The BBC is not responsible for the content of external sites.