Science and maths teacher shortage may loom for England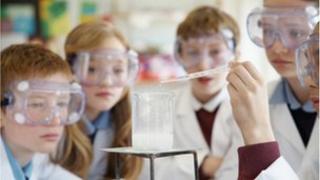 England risks a shortage of science and maths teachers next summer, a leading recruitment expert has warned.
The government's new School Direct scheme is recruiting too few trainee teachers in key subjects, says Oxford Brookes university's Prof John Howson.
Some three-quarters of trainee physics teacher places on the scheme are unfilled, says Prof Howson.
The government said numbers of physics teacher trainees were "now at their highest level since records began".
From September about a quarter of the funding for teacher training will switch from universities to School Direct.
"On-the-job"
The government wants almost 10,000 new teachers to train on the scheme instead of at universities.
The aim is to give head teachers more control over training and guarantee more "on the job" experience for recruits.
Prof Howson's analysis suggests that at the start of August just over half of this number, some 5,630 trainees, had been accepted onto the scheme.
He analysed acceptances onto School Direct schemes and onto traditional university Post Graduate Diploma in Education (PGCE) courses.
He said that although the scheme "was coping well in many of the arts and humanities subjects, it was failing badly to recruit trainee teachers in key science, mathematics and technology (Stem) subjects".
There are two training routes on School Direct - salaried and unsalaried.
For physics, 75% of salaried trainee places were still empty at the start of August, as were 77% of unsalaried places.
In chemistry, some 63% of salaried places were unfilled and 57% of unsalaried places.
For maths, the figures were 56% and 61% respectively.
Recruitment for trainee biology teachers was stronger, with 71% of salaried places filled but only 43% of unsalaried places.
Prof Howson says this amounts to more than 800 unfilled training places for Stem teachers on School Direct.
His analysis indicates that the shortfall is compounded by fewer Stem trainees on PGCE courses where between 40% and 50% of places remain unfilled.
"Shortfalls of this magnitude in Stem subjects cannot be glossed over as insignificant" said Prof Howson.
'Breathing space'
He added that an improving economy may make it harder to recruit new graduates with good degrees in Stem subjects into teaching.
Annette Smith, of the Association for Science Education, said: "University departments which train science teachers are seeing cuts.
"If it is the case that School Direct is recruiting so poorly the result is not going to be good."
Peter Main, of the Institute of Physics, said initiatives to recruit physics teachers had "seen dramatic gains in recent years".
But he added: "This year, numbers have fallen sharply.
"While that fall cannot necessarily be attributed to the changes in recruitment routes, School Direct is a very new scheme and although successful in some areas, it has been much less so in shortage subjects such as physics.
"It is not clear exactly why there are such large differences between subjects, but it would be wise to offer both schools and universities some breathing space and reduce School Direct quotas to allow time to develop a better understanding of the process and to enable us all to learn from this year's lessons."
A Department for Education spokesman said: "School Direct is proving extremely popular. By May around 22,500 people had applied for 10,000 places, and applications continue to rise.
"Of course it is right that head teachers are selective and choose only the brightest graduates best suited to their schools.
"This year we have seen an increased number of highly qualified graduates and career changers move into science and maths teaching, with the number of physics teacher trainees now at the highest level since records began."