'Wacky' student clubs uncovered in university guide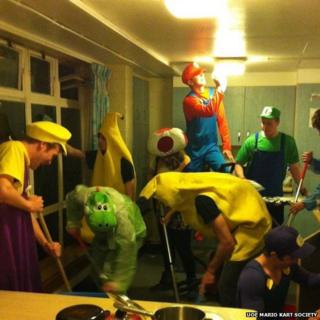 As undergraduates prepare to head off to university with their loans in their pockets, the search is on for the wackiest student societies.
Researchers for Which? University have uncovered dozens of daft groups across UK campuses.
Despite higher fees and precarious job prospects, student clubs seem keen to show it is still possible to have fun.
Nerdfighters, for example, is for those "not composed of cells and tissue, but instead made entirely of awesome".
Drinking is key to these groups, as is eating - but dressing up in a pantomime costume and running around the city centre also seems important.
'Nerd positive'
There are groups to suit the strangest tastes from Competitive Eating, wearing your onesie in public in the KiguSoc or brewing mead dressed as a Viking.
Essex University's Mario Kart Society "is based on the Mario Kart Double Dash game. There's a Double Dash league and knockout tournaments", as well as social events and volunteering, says their website.
These include "a huge amount of dress up and a variety of different themes, such as a Mario v Luigi themed night."
If you want to run through Colchester dressed as a rabbit - this may be the club for you.
Nerdfighters Societies can be found at UK universities including Manchester Metropolitan and University of Bath.
"This is a nerd positive society, based mostly on the works of the vlogbrothers, the awesome John and Hank Green", proclaims the MMU Nerdfighters Society website.
The idea is to "break down the nerd stereotype and fight for good causes", while attending quiz nights and movie marathons.
At Plymouth University, members of the Viking Society take part in traditional Viking games and brew their own mead as well as going for walks in full Viking kit. It aims to appeal to "those who are interested to see the hardships of the average Viking man or woman".
University of York's Kigusoc "aims to bring together people who have a genuine enthusiasm for Kigus" or Japanese-style animal themed 'onesies'.
"Although typically designed for indoor use, we believe there is no occasion or activity that is not improved by a Kigu.
"KiguSoc is for those who aren't afraid to get out there and show their love of fleece to the world", says their webpage.
Several universities have an Assassin's Guild where players track down and perform mock assassinations on other members of the society while trying to avoid detection and assassination themselves.
"No, we are not a group of homicidal students that go round opening fire on unsuspecting students. Well not exactly...", says Sheffield Assassins website.
Not quite as lethal but probably equally energetic are the Twenty Minute Societies run by students at Newcastle, Lincoln and Birmingham.
These societies send out weekly messages, with the address of a random location. Members have to get there within 20 minutes.
Their Facebook walls include injunctions like: "Get outside the union nowwww xxxxxx" and last term were promising more events "once those pesky exams are over".
University of Kent's Competitive Eating Society does what it says on the tin.
Members aim to eat competitively, to experience new foods and local cuisines but "also to maintain a healthy approach to competitive eating and encourage a healthy lifestyle".
Members pictured on their Facebook page look fairly slender and meet weekly during term-time "to try the tastiest challenges out there."
These include the "Metre of Pizza Challenge".
'Gentlemanly pursuits'
Somewhat more discriminating is the Bath University Curry Appreciation Society offering "amazing socials with great curry, great company and at a great price".
The Keele Society of Gentlemanly Pursuits "indulges in the finer things in life such as fine liquors and music of good quality".
If many of these pursuits appear puerile, the ultimate example is The Sheila and her dog Society in Cambridge. At meetings members regress to age six, drink cocoa and read children's stories to each other.
Their website declares the group "the silliest society in Cambridge - no matter what PoohSoc says".
The Little Prince, a spokesman for the the group, said it is designed to appeal to shyer students - who like to be silly - but in relative privacy.
Membership is for life and is not confined to students, the prince told BBC News.
Raechel Mattey of the National Union of Students said: "One of the great freedoms about going to college and university is the chance for each student to create and shape activities.
"It can be an enormous pressure to be a student today, so it's definitely right that universities and unions can aid in the fun side of life too."