Dinosaur experts launch online university course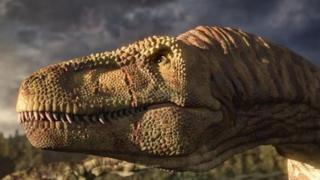 A Canadian university is turning its international expertise in studying dinosaurs into a free online course.
This latest stage in the rapid expansion in online university education is the University of Alberta's "Dino 101" course.
Students at the university can take the same course and count it as a credit towards a palaeontology degree.
The online course materials will use interactive techniques developed for the gaming industry.
The course in dinosaur paleobiology will be available from September through the California-based Coursera online network, which has gathered 4.2 million students and 86 universities and other partners since it launched last year.
Fossil record
The Canadian university has an international specialism in dinosaur studies, including a world-leading dinosaur expert, Dr Philip Currie.
And online universities - so-called massive online open courses (Moocs) - have grown around the idea that such expertise should be made available to a much larger audience than the students who can squeeze into a lecture hall.
"There are limited opportunities for students around the world to study palaeontology," said science faculty dean Jonathan Schaeffer.
"In offering Dino 101, one of the richest learning opportunities in a Mooc format so far, we're excited to share the grandeur of these larger than life ambassadors from our past with millions of people around the world."
The course, headed by Dr Currie, aims to be at the technical cutting edge of online learning.
It will use technology from online gaming in a mixture of video lectures, questions and tests.
It will look at topics including the physical appearance of dinosaurs, their diet, how they attacked and defended, fossilisation and their eventual extinction.
It will also be the first Canadian Mooc to be available as a credit towards a degree and available free to online enthusiasts who do not want to take an exam.
If students at other universities want to follow the course, the University of Alberta says, it will provide students with "course documentation in order to seek credit from their universities for Dino 101".