More pupils taking GCSEs earlier, says Ofqual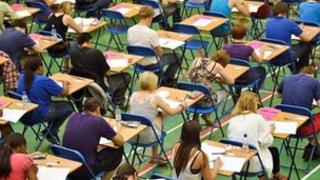 An increasing number of pupils in England, Wales and Northern Ireland are taking their GCSEs a year early, says the Ofqual exam regulator.
Almost a quarter of pupils taking GCSE maths this year are under 16.
The watchdog also published figures from the previous year showing tens of thousands of pupils had taken GCSE maths more than once, using different exam boards for the same subject.
Ofqual chief Glenys Stacey warned such "tactics" affect overall GCSE results.
Speaking before this month's GCSE results, Ms Stacey revealed an "emerging picture" of how results might be different this year and the underlying factors.
Lower science grades
Ofqual is responsible for exam standards in England, but the figures published include pupils taking GCSEs in England, Wales and Northern Ireland.
There were more pupils taking GCSEs earlier than the usual 16-year-old age group. In GCSE maths, the number of younger pupils had risen from 18% last year to 23% this year. In English, the proportion of young entries had risen from 8% to 11%.
This allows high-flying pupils to get exams out of the way, but it can also be used as a way of allowing pupils a second chance at an exam, with the option of trying to improve grades the following year.
Science grades for this year are likely to be lower overall, with tougher standards and new qualifications being introduced.
It will mean that a C grade this summer will require a higher level than last year.
If the performance of pupils this year were the same as last year, this would mean fewer reaching A*, A, B and C grades.
Angry protests
"We are expecting a small drop in achievements overall, rather than anything more substantial," says Ofqual.
Ofqual also highlighted that many pupils now take more than one exam in the same subject. Last year, 15% of pupils taking GCSE maths had made multiple entries in the subject, such as using different exam boards, or had taken units from different courses.
This was particularly among pupils on the borderline of a C grade - important for pupils and for school league table rankings.
Ms Stacey described this as pupils "riding more than one horse", switching between courses and exams in the same subject.
"We're not suggesting that this is happening for students of all abilities. But where a student is at risk, perhaps, of not getting that precious C grade then a tactic is to enter the student for more than one of the qualifications and either take a view or ride both horses to the end.
"In some cases we're seeing, in maths, that students are riding two horses and then moving to a third horse, a completely different one, halfway through."
Ofqual says that it expects similar numbers of pupils this year to have used such multiple exam entries.
Last year there were angry protests and a legal challenge after controversial GCSE English results.
And this year has brought a surge in pupils taking an alternative qualification, IGCSE English, up from 18,000 in 2012 to 78,000 this time, with many of these assumed to be taking GCSE English as well.
'Malign influence'
These disputed English results were part of the first fall in overall results since GCSEs were introduced 24 years before.
The provisional GCSE figures published last August showed a drop of 0.4% in the proportion of pupils achieving A* to C grades - down to 69.4% - compared with the previous year's provisional results.
The final exam board results from the summer of 2012, including any changes to grades, have still to be published.
Ms Stacey emphasised the importance of Ofqual's role as an independent regulator that ensured standards.
She said that there was no political pressure on the regulator's decision making about exams and qualifications.
Russell Hobby, leader of the National Association of Head Teachers, said that Ofqual appeared to be "bracing us for bad news" and said that schools wanted to have stability after the upheaval of exam changes.
"Above all, the system is reeling from fundamentally irreconcilable pressures: every school must increase results each year, while the regulator must ensure that results do not go up each year. This is both illogical and unsustainable," said Mr Hobby.
National Union of Teachers' leader Christine Blower warned: "When accusations fly that schools are somehow gaming the system, it is often the case that a blind eye is turned to the malign influence of Ofsted benchmarks and ever-changing floor targets from government."
Labour's Shadow Schools Minister, Kevin Brennan, said: "After last year's fiasco with GCSE English overseen by Michael Gove what we need is to ensure parents and pupils have confidence in the exam system. Labour would ensure that standards remain rigorous and that pupils are treated fairly. No-one should be allowed to game the system."