£20k lure for maths graduates to be college teachers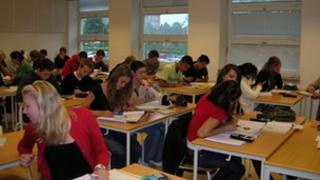 Maths graduates are to be offered £20,000 to teach in England's further education colleges, the Department for Business, Innovation and Skills says.
Grants of around £9,000 will also be available to graduates who opt to teach English or work with those with special educational needs (SEN) in colleges.
Ministers want to improve the numeracy and literacy skills of those studying vocational courses at FE colleges.
Unions said the move proved good graduates were not queuing up to teach.
The announcement by the BIS comes amid concerns from employers that employees have poor maths and English skills.
Around 8.1 million people - 24% of the working-age population in England - lack basic maths skills, the government's most recent Skills for Life Survey suggests, while 5.1 million (15%) struggle with literacy.
'Recruit brightest and best'
The funding will be available for college trainees from September.
Business, Innovation and Skills Secretary Vince Cable said: "Too many businesses tell me they cannot find young people with the numeracy and literacy skills they need.
"It's not just those planning on going to university who need to have a firm grasp of English and maths. These basic competencies are needed for all types of employment and it is not possible to enter a full apprenticeship until then.
"This government money will help. It will help more young people get the skills needed to get a job."
Skills Minister Matthew Hancock said: "These bursaries will help us recruit the brightest and best teachers so we can improve standards and provide people with the basic skills they need for a rewarding career.
"They will also make sure that we promote excellence in special needs teaching so that we protect members of our society that are potentially the most vulnerable."
Dr Mary Bousted, general secretary of the Association of Teachers and Lecturers, welcomed the initiative but expressed concern about skills losses in FE colleges.
"The dearth of specialist maths, English and SEN teachers has partly been caused by massive redundancies in FE in the last few years, with the loss of teachers and trainers with years of knowledge and experience.
'Considerable challenges'
"This is another admission by the government that its policies are driving graduates away from teaching and lecturing as a career.
"If well-qualified graduates were queuing up to become lecturers in these specialist vocational areas, the government would not have to offer large amounts of money to tempt them to do so."
Joy Mercer, of the Association of Colleges, said funding for teacher training was welcome.
"It is useful that government has committed to initial teacher training grants for 2013-14 graduates so that colleges can start recruiting straightaway, but funding has only been confirmed for the next two years and a short-term funding commitment risks limiting the benefits.
"Colleges also face considerable challenges in attracting people with excellent applied maths skills and relevant vocational expertise who may not be graduates or be looking to undertake initial teacher training.
"We would welcome further discussions with government, its agencies and partners as to how the sector can be helped to attract these types of people from industry into the college classroom."