Three-quarters of free schools 'good or outstanding'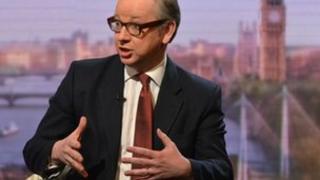 Inspections of England's first 24 free schools show they are performing in line with other state schools, with 75% rated good or outstanding by Ofsted.
Four were considered outstanding, 14 were good, five required improvement and one was deemed inadequate.
Ofsted data shows that, on 31 March, 79% of all state schools in England were good or outstanding, 19% required improvement and 3% were inadequate.
All of the first 24 free schools, which opened in 2011, have been inspected.
A spokesman for the Department for Education said the free schools were all inspected under Ofsted's new "tougher" inspection framework, introduced in September last year.
'High standards'
Free schools are state-funded and independent of local authority control.
They have the freedom to decide the length of school day and term, their curriculum, teacher pay and how they spend their budgets.
Critics say they are divisive because they are centred disproportionately in middle-class neighbourhoods and contribute to creating a two-tier system.
But Education Secretary Michael Gove said the Ofsted inspection results were further evidence of the high standards at free schools.
"Too often the best schools are only available to the rich who can afford to go private or pay for an expensive house in the catchment area of a good school.
'Pioneers'
"Free schools are giving all parents, not just the rich, the choice of a high-quality school with great teaching and strong discipline."
Natalie Evans, director of the New Schools Network, said the inspections showed a "strong set of results" for the first free schools.
"These schools are pioneers in every sense and to achieve a good or outstanding Ofsted judgement in just two years, having set up a school from scratch, is very impressive."
Currently 81 free schools are operating and a further 200 are planning to open from September and beyond.