Traditional degrees will not fill skills gap, says CBI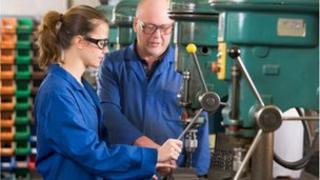 The UK risks failing to close its "chronic skills gaps" by continuing to focus teenagers on the university "default route", say business leaders.
A growing demand for degree-level technical skills will not be met by traditional university courses alone, argues a CBI report.
Instead more young people should take shorter or part-time degrees and advanced apprenticeships, says the CBI.
Business Secretary Vince Cable welcomed the CBI's analysis.
"I agree with the CBI. A credible alternative to university is needed to help young people get the skills the economy needs", said Mr Cable.
'Undersold'
The report, Tomorrow's Growth, predicts that by 2020 nearly half of all employment will be in "highly-skilled roles".
Meeting this challenge "rests on the extent to which we can widen gateways into skilled work and promote routes to higher skills that appeal to individuals for whom a degree may not be the best option", it argues.
In particular the authors say more young people should be encouraged to take technical and vocational courses which they say have long been undersold and should have parity of esteem with academic routes.
The report calls for better careers advice from an early age, and an end to the "information asymmetry" which "blights the system".
"What is now seen as the 'default route' of an undergraduate degree is not suitable for all, young people have different talents and learn in different ways.
"To become informed consumers, young people need access to better work inspiration from primary school on. We should aim to inspire but also be realistic, setting out the costs and likely return on the options open to young people, including the vocational options that have long been undersold."
The authors call for "a vocational Ucas system" with similar prominence and standing to the university entrance system.
This would provide "information on the full range of programmes available" and "improve visibility of these routes to young people".
They recommend more partnerships between colleges, universities and business to provide vocational training, with businesses expanding their commitment to high-quality training schemes such as apprenticeships, work-based training and fast-track schemes for school-leavers.
They urge universities to provide more "learn as you earn" education alongside traditional degrees. This would include employer-backed sandwich courses and more flexible degrees, "especially part-time ones".
The CBI's policy director Katja Hall said: "The UK needs to vastly increase the stock of workers with higher-level skills to drive long-term growth and stop us falling behind our competitors."
Ms Hall added that changes to the university finance system in England have meant that young people, facing tuition debts of £27,000 for a three-year course, are already becoming "savvier in shopping around for routes to give them the competitive edge in a tighter job market".
"Universities must be much more innovative to take advantage of the change in students' approach. And we need businesses to roll up their sleeves and expand high-quality alternative routes".
Uptake patchy
The report argues that there has been some progress but the uptake of apprenticeships is still "patchy and inconsistent".
It also urges the government to address the 40% drop in part-time undergraduate applicants in the past three years.
Mr Cable said the government was investing heavily to boost the number of apprentices.
He said it was introducing more than 40 new higher apprenticeship schemes in a range of subjects from advanced manufacturing to space engineering, "equivalent to getting a degree, but you're paid to train".
He added that the government had also set out plans "to get business and university to work together more".
Nicola Dandridge of Universities UK said: "We share the CBI's concern about the sharp downturn in recruitment to part-time higher education study and the impact on meeting the UK's skills needs".
A Universities UK review of part-time and mature higher education will report in October.