Exam board seminars won't be banned, says regulator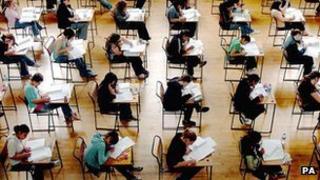 England's exams regulator has rowed back from a decision to ban exam board seminars for teachers because of the pace of change in the exams system.
Ofqual had planned an outright ban on seminars on specific qualifications after a report claimed teachers were unfairly given details of future exams.
It now says seminars can still play a role in supporting teachers prepare students for new exams.
But rules governing these face-to-face events will be tightened.
Ofqual says no one who has had access to confidential assessment materials can be present at such events.
The seminars themselves should be closely monitored by the exam boards, it says, adding that they could be recorded.
'Confidential information'
It also says any events should be reasonably available to all teachers and that all training materials used should be published in ways that teachers can access.
Ofqual's chief regulator Glenys Stacey said: "We had previously decided to stop events taking place for specific qualifications after they start being taught in schools. Since our original decision, the full scale and pace of the programme to reform GCSEs and A-levels has become clear."
"And exam boards have put in place new approaches for managing confidentiality at these events. After looking at this evidence and listening to the feedback from our recent consultation, we have decided that appropriately run seminars can still play a key role in supporting teachers to prepare their students for the new qualifications."
She added: "Teachers should be given enough information about new qualifications to be able to plan their teaching and to teach students well, but they should not be given confidential information about future exams.
"We are making sure that teachers can get the right information about qualifications, and that what happens in seminars is all above board."
The initial Ofqual inquiry followed reports in the Daily Telegraph newspaper.
New qualifications
It found there were problems with some seminars, but these related to limited specific incidents and were not systemic.
An examiner from one of the biggest exam boards, Edexcel, was suspended as a result of the allegations as were two examiners from the smaller Welsh board WJEC, which also had to rewrite and delay one of its exams.
WJEC said in a statement: "As an awarding body, we believe we are in the best position to provide teachers with clear guidance and support as they prepare to introduce new qualifications in the classroom.
"Today's confirmation about the scope of what we are able to do will help us prepare for our exciting programme of CPD events in the autumn, including our innovative new online examination review provision."
There were no complaints against the other major exam boards, OCR and AQA.
But AQA's chief executive Andrew Hall said:
"We were really concerned when we thought there might be a total ban, as there hadn't been any problems with our seminars and it looked like Ofqual was going to throw the baby out with the bathwater. This would have been very serious at a time when new GCSEs and A-levels are being introduced.
"So, I am pleased that Ofqual has listened to these concerns and now decided that with the right controls in place across the sector, these events will be able to continue."