Goldie's former music college wins back border licence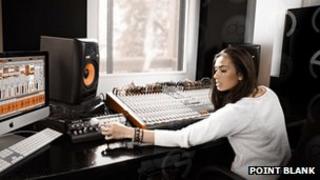 A music college whose alumni include Leona Lewis and Goldie has won back its licence to sponsor non-EU students.
Point Blank Music College had its licence revoked in March, leaving international students having to find a new college or leave the country.
The Home Office reinstated the licence of the north London college after a re-inspection earlier this month.
"This was a great ending to a very unhappy period", said Point Blank managing director Jules Brookes.
The college, whose visiting tutors include BBC Radio 1 DJ Pete Tong, offers tuition ranging from weekend courses to two-year diplomas accredited by the University of Middlesex.
'Significant improvements'
Its problems began when the UK Border Agency (UKBA) refused clearance or leave to remain in the UK for 14 prospective students accepted by Point Blank in the year to June 2012.
This represented a refusal rate of greater than 20% for the college and under the rules this automatically meant action would begin to revoke its sponsor licence.
Legal appeals failed and in March existing international students on courses lasting more than six months were told they had to leave.
At the time, the college wrote to students expressing "frustration" at the decision and blaming "formalities and clerical issues on the side of the UKBA" for the problem.
Later the same month the UKBA ceased being an independent agency and is now part of the Home Office.
Mr Brookes told BBC News that after intervention by local MP Meg Hillier, the Home Office requested a meeting to advise management on what measures were needed to improve their systems and "be deemed good again".
Following an inspection the Home Office has agreed to reinstate the licence and to restore its "highly trusted sponsor" status.
In a letter the inspector accepted the college had made "significant improvements to address the issues identified".
These include changes to the staff responsible for managing students' immigration status and additional checks on potential international students before they are accepted at the college.
The inspector added that he was "clear" that the original decision to revoke the sponsor licence was correct but said that the improvements made by the college meant that he was "confident that that Point Blank is taking seriously the duties and obligations required by sponsor licence holders and am therefore going to reinstate your sponsor licence".
The reinstatement means that the college can now start recruiting international students for courses starting in the autumn.
Mr Brookes described the outcome as "fabulous" but added: "Obviously we have taken a hit. We have lost 30% of our student body. Most went to our competitors."