Why Scotland doesn't have a national curriculum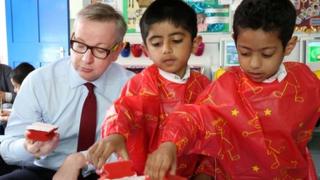 If Westminster education secretary Michael Gove were to pay a visit to a primary school in Aberdeen where he grew up, he would probably see a school on a quite different path to many in England.
The Westminster government says planned changes to the national curriculum in England are designed to stretch children and allow England to catch up with the world's best education systems.
But in Scotland education is run completely separately and the idea of giving primary teachers a prescriptive list of topics to teach by particular stages is seen by some professionals as an anathema.
Even before the creation of the Scottish Parliament, education in Scotland was run separately from education south of the border. Indeed the fact Scotland had its own distinct system was often a source of national pride.
The national curriculum was never introduced in Scotland when it was introduced in England by the Thatcher government.
But since devolution in 1999, the differences between the Scottish and English school systems have widened and the direction of travel is currently different.
Local councils
The Scottish Government believes its responsibility is to provide the framework for learning and teaching rather than, as their website puts it, to "micromanage what goes on in individual schools".
Practically every state school in Scotland is run by the local council. Responsibility for what is taught rests with councils and schools although they have to take national guidelines and advice into account.
While there is no national curriculum in Scotland, a term often used in Scotland is the Curriculum for Excellence - a series of reforms in education which have been phased in over the past 10 years.
The Curriculum for Excellence has brought about significant changes in schools - placing an emphasis on exploiting the natural links between different subjects and putting in place certain over-riding aims which go beyond individual subjects such as developing citizenship.
But some teachers say the name Curriculum for Excellence is unfortunate because it is not a curriculum as such. It does not give teachers a prescriptive list of topics they should teach or when.
For example, there is no set point at which a child would be expected to learn their 12 times table or a specific list of history topics they should know about.
During their seven years of primary school and their first three years at secondary school, Scottish children receive what is described as a broad general education.
'Divergent paths'
The guidance sets out the stage in a particular subject a child might normally have reached by certain milestones in their education - for instance the end of primary school - but makes clear that some will reach that level at an earlier or later point.
For example, while "fractions for five year olds" has been a headline used to describe changes to the national curriculum in England, the Scottish guidance is more informal.
By the end of Primary 1 a child may have had some introduction to the essential concept of fractions - for instance by being able to split a whole object into smaller parts.
By Primary 4 they might have a knowledge of some simple fractions - knowing how to halve or quarter an amount using their knowledge of division - and by the end of primary school they will have investigated the everyday contexts in which simple fractions, percentages or decimal fractions are used and would be expected to be able to carry out the necessary calculations to solve related problems.
Similarly in history the aims are less specific. A child by the end of primary school should have learnt to investigate a Scottish historical theme to discover how past events have shaped Scottish society.
Inevitably some topics - such as the Romans or the Vikings - may be popular but there is no requirement to use a particular theme in history, far less a list of facts, dates or names a child should have learnt.
It can be hard to directly compare the pros and cons of the Scottish and English systems - both have their supporters and detractors. But in the field of education, as in several others, the two countries currently seem on divergent paths.