Teach First scheme 'biggest recruiter of graduates'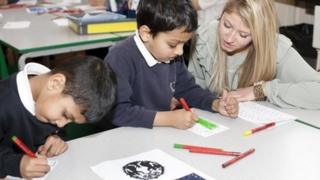 An initiative to recruit talented graduates to teach in deprived areas is now the biggest destination for university leavers, according to a survey of major UK employers.
Teach First has overtaken traditional big recruiters in banking, finance and the civil service.
The teaching scheme, launched in 2002, took on 1,261 graduates this year.
Prime Minister David Cameron praised the scheme for its "belief in its power to change lives".
These latest recruitment figures are from High Fliers, based on a survey of 100 major graduate employers.
Raising standards
It shows that Teach First has moved ahead of the firms such as PricewaterhouseCoopers and Deloitte and is also the fastest growing.
The Teach First charity was set up to send ambitious and motivated young teachers into schools serving deprived areas, with the aim of raising standards.
It has been claimed as part of the success of the London Challenge, which saw results in the capital outstrip other parts of England.
It has been expanding across England and Wales, with the aim of recruiting 2,000 graduates a year from 2015.
Trainees have six weeks of intensive training, with their subsequent training taking place in school, where they spend two years.
"It's a remarkable achievement that Teach First has hired so many top graduates this year, overtaking recruitment at long-established graduate employers," says Martin Birchall, managing director of High Fliers Research, which tracks the graduate labour market.
Teach First has also produced an analysis of its own recruits. There were 80% from leading Russell Group universities, but almost a quarter had been eligible for free meals at school and a third had been the first in their families to go to university.
Ambitious pupils
The importance of good-quality and inspirational teaching has also been emphasised by a major study of the opinions of students currently in school, being run by Teach First and Pearson, the education firm.
Early findings from the My Education project, which surveyed 5,800 secondary pupils, show that almost two-thirds of pupils say they "have a teacher who is a positive role model for me" and 70% say they have "teachers believe in me and expect me to be successful".
The study also contradicts negative impressions of young people as lacking in ambition.
The results, which are to be published in more detail in the autumn, show very high levels of engagement in education and a recognition of its importance.
There were 93% of pupils who believed "getting good grades is important to me"; 89% of pupils "believe they can be successful" and 84% "push themselves to do better academically".
Rod Bristow, president of Pearson UK, said: "Our young people's aspirations are sky high - they want to work hard and to succeed in education and they remain excited by the prospect of learning.
"As we reform our education system, it is critical that we keep these voices front of mind. We should be as optimistic about what education can achieve as the young people we serve, and draw on the best technology, international approaches and evidence to support them to meet their ambitions."
At an event in Downing Street, David Cameron praised Teach First's achievement in becoming the biggest graduate recruiter.
"Teach First's graduate recruitment is impressive. Their trainees will reach out to future generations of UK children and raise aspirations where this is needed most," said the prime minister.
The charity's acting chief executive, John Colenutt, said he was pleased "working in schools in challenging circumstances is now seen as the most prestigious and popular destination for the country's best graduates".
"But, there is much more to do. Whilst we have seen change for some pupils across some schools, all too often, if you grow up in a low-income community in the UK you are still less likely to do well at school, find a decent job and lead a happy, healthy life."