Profit-making academies ruled out by government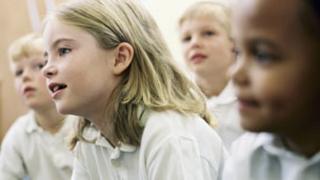 The Department for Education has strenuously denied it has plans to allow academies and free schools to make a profit.
A document seen by the BBC suggests its most senior civil servant has proposed reclassifying academies as private firms, which some say could potentially allow them to make a profit.
Currently the state-funded, privately run schools cannot pocket any surplus.
The DfE says it is not planning to change that.
Education Secretary Michael Gove has indicated in the past that he is open to the idea of allowing the profit motive for those running academies and free schools. But the Liberal Democrats are strongly opposed to that notion.
The DfE said the document, which bears the name of the department's permanent secretary and is dated October 2012, was purely to do with the "technical treatment of debt" and that it would be "grossly misleading" to suggest the document meant academies could be run for profit.
'Fundamental shift'
But the document itself speaks of "fundamentally shifting the basis of our relationship with academies through reclassifying academies to the private sector, possibly coupled with a change in the legal framework".
It goes on to talk about potentially adopting a "licensing" or "corporation approach" like the one used in the further education sector.
In post-16 education there is not the ban on making profits that there is in pre-16 education, but most colleges are charities and any surplus has to be reinvested into the college.
Glynne Stanfield, partner and an expert in education law at legal firm Eversheds, said: "If, as reported, the government does reclassify academies in to the private sector and changes the legal framework then that could allow for-profit organisations to run academies alongside not-for-profit organisations."
He said currently further education colleges could convert to a different legal framework that could be a for-profit model, although in reality very few have done so because of a number of obstacles. However, he was clear that for academies and schools, this would require new legislation.
Because of this status, colleges also have more freedoms to borrow against their assets and invest these capital funds into their buildings and facilities.
The document suggests the motive for any change of status is to expand its academies and free school programme beyond 5,000 schools without increasing costs. At the time of the report there were 2,309 academies and 79 free schools and it refers to 5,000 academies as a sort of "crunch point" beyond which the existing system appears unsustainable.
It is clear that the proposals are "radical" and long term, and the document says: "It would be wise to begin now describing what a future operating framework could look like, even if we have no firm plan for moving to it."
"This would enable us to both make interim policy decisions that support the longer-term direction of travel and begin creating the conditions needed to deliver it," it continues.
It also highlights issues around "risks" that the DfE would have to manage as the result of the academies programme expanding on such a scale.
These include "higher project attrition rates, decreased ability to overcome resistance at local level, and more nasty surprises arising from not managing projects as closely as we have up to now".
A DfE spokesman said its board did not endorse any plans to reclassify academies as private sector bodies and no such move was anticipated.
'Absurd'
"The final say on how academies are classified and thus whether their funds remain consolidated within public accounts would rest with Office for National Statistics, not DfE.
"As the successful academy programme grows, we continually review our internal processes and systems to ensure that the service we provide to schools remains of a high quality.
"We have repeatedly made it clear that we will not introduce for-profit schools. This story is absurd."
A spokesman for the Public and Commercial Services Union said: "It ought to be unthinkable to even consider introducing the profit motive into our schools, and this plan should be binned and never see the light of day again."
Shadow Education Secretary Stephen Twigg said: "Making a fast buck from children's education is wrong and will damage standards.
"Michael Gove shouldn't experiment in this way. In Sweden, we've seen standards in literacy and numeracy fall and schools collapse since profit making was introduced."