Some universities may close, academics fear
By Judith Burns
BBC News education reporter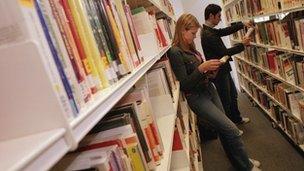 Some universities may close as a result of political and financial change in the sector, suggests a survey of senior university leaders.
The study by a management consulting firm predicts further cuts in public funding to universities.
Some 60 senior university leaders from across the UK responded to the survey, around a third of the total.
"It is clear that we are witnessing a sea-change in the dynamics of higher education", said co-author Mike Boxall.
Declining government grants, limits on undergraduate numbers, higher student fees and cuts to research funding have resulted in a dramatic shift in priorities for university leaders, argues the report by PA Consulting.
The authors detect signs of a switch among university leaders away from "their historical obsession with outlook for government policy and funding".
Instead the focus is increasingly "the competitive battle for fee-paying students", with a "new imperative" to offer "attractive and rewarding learning experiences", including better student access to academic staff.
The report notes that the past year has seen a "marked softening and increased discrimination" in demand for higher education from school-leavers in response to higher fees and patchy graduate employment prospects.
Demographic changes and visa restrictions on international students also limit the pool of would-be students.
Some 58% of the university leaders surveyed said they were worried by falling demand for undergraduate courses from UK and EU-based students.
Some 90% expressed concerns over declining numbers of postgraduate students from the UK and EU, with more than 80% worried by falling international numbers.
"Several" respondents predicted that between 20 and 30 higher education institutions could become unviable, says the report.
However the authors believe a more likely outcome will be "a radical restructuring of relationships and ventures within and between providers rather than a widespread shake-out".
Some universities are already focusing on their perceived areas of strength, say the authors, noting that in 2012 there were 20,000 fewer undergraduate courses offered through UCAS than in 2006. They also quote anecdotal evidence of closures and mergers of academic departments within universities.
Some 90% of the survey respondents predicted the possible emergence of a super league of research-based institutions.
A similar proportion said there would be a blurring of distinctions between public and private providers and between work and study, fuelled by the development of innovative teaching methods such as massive open online courses.
The authors foresee traditional university structures and academic quality processes providing "a stable core, while entrepreneurial and innovative learning experiences, incorporating the use of educational technologies, are provided in diverse ways", to different groups of learners.
They predict "tensions" between academic conservatism and entrepreneurial innovation and call for "imaginative debate" on how to balance the two elements.
Nicola Dandridge of Universities UK, said universities were becoming adept at responding to political and financial challenges.
"The UK university system is world class. One of its great strengths is its diversity, with universities covering a broad range of courses and disciplines and with different universities focusing on different strengths. Some may fare differently to others in the new fees regime, but overall universities will continue to respond to the changing demands of students.
"However, it is still critical that government maintains its overall investment in higher education. This is essential if universities are to remain internationally competitive and continue to be at the heart of the UK economy and growth."
A spokesman for the Department of Business Innovation and Skills said: "Our reforms have put students at the heart of the system, which is why student experience is now a top priority for universities. We are delivering more choice by relaxing number controls and ensuring a more diverse sector.
"Demand for places remains high and the rise in applications indicates that potential students understand how the new student finance system works. We have laid the foundations for a better funded and more competitive sector, with a ring-fenced research budget and more resources for teaching."
Related Internet Links
The BBC is not responsible for the content of external sites.