School librarian finds fake Blake poem
By Sean Coughlan
BBC News education correspondent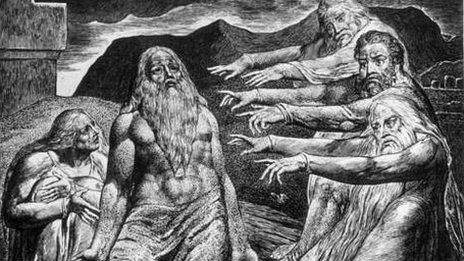 A school librarian has discovered that a poem widely attributed to William Blake, including in school reading lists, was not really written by him.
Rather than the work of an English poet in the 19th Century, Two Sunflowers Move into the Yellow Room was written in the United States in the 1980s.
This mislabelling shows how the internet can replicate errors, warns Thomas Pitchford, a librarian in a Hertfordshire secondary school.
"We just accept too quickly," he says.
An online search for "Two Sunflowers Move into the Yellow Room" will produce numerous references to this as a poem by William Blake, the radical English writer and artist who died in the 19th Century.
There are essay questions, anthologies, lesson plans, discussion forums, teachers' resources and online reference websites all interpreting this poem as an example of 19th Century poetry.
But Mr Pitchford says that when he saw the poem attributed to William Blake, he immediately thought the style bore little relation to the poet's other work.
He soon established that the poem was really by Nancy Willard and had been published in 1981 in an anthology called A Visit to William Blake's Inn.
But the librarian, who works at Hitchin Boys' School, then realised how far and wide the mistake had travelled, with internet sites copying and distributing the false connection with Blake.
Many schools have been teaching the poem as an example of Blake's work.
He believes that the poem has been spreading as a fake Blake poem since 2001, with the intervening years embedding the poem ever more deeply into a range of websites and online resources.
His blog, the Library Spider, has dozens of examples of how the poem has slipped into being used in the classroom.
Websites across the English-speaking world are littered with references to this as a poem by Blake, from individual school anthologies to state publications.
A special reading programme for gifted pupils in Illinois asks pupils to talk about the poem
Instructions for teachers in a Kentucky school district use it as a classroom example
A teachers' resource book from a major publisher recommends it
Education agencies in the US states of Texas and Louisiana promote the teaching of this supposed work by Blake
A US state university worksheet gives students the poem as an example of a style of writing
Mr Pitchford is now in the process of contacting websites to try to overturn what has become a widely established belief that this is a work by Blake.
He says it is a cautionary tale of how the internet can "mutate" reality, but he does not believe that pupils should never trust the internet.
"It's easy to get on your high horse about it, but books have also had mistakes. You can't say books are always better," he says.
Instead it means that using the internet for research means thinking much more about what the search engine shows as the result.
"It shows that research can't just be going with the first answer."
Related Internet Links
The BBC is not responsible for the content of external sites.