Troops to Teachers, from think-tank to classroom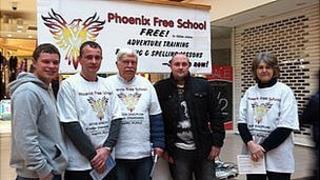 At the Phoenix Free School, due to open in Oldham next year, pupils will be taught by a purely ex-military staff.
The school is the brainchild of Prof Tom Burkard who came up with the idea of fast-tracking former servicemen and women into UK classrooms.
The professor of Education Policy at University of Derby also wrote the original think-tank report 'Troops to Teachers' for the Centre for Policy Studies in 2008.
In the paper, he advocated bringing a United States programme which retrains retiring troops as teachers for inner city schools, to the UK.
He suggested that ex-troops without degrees could begin their new careers as teaching assistants or remedial tutors.
This is exactly the policy that will be has adopted at Phoenix, a mixed comprehensive.
Here, the subject teachers will all be former military personnel with degrees, largely drawn from officer ranks.
But in contrast to the new government scheme, any former troops without a degree, will work alongside teachers in the classroom as "instructors" rather than teaching the class by themselves. It is anticipated that these instructors will be 40% of staff.
Prof Burkard says the plan is not to run a military school but to build "a school that will combine all the best features of a traditional grammar school or an independent school with the military virtues of courage, discipline, respect for others, integrity, loyalty, and selfless commitment".
Born in America but becoming a British citizen in 1983, the academic's life experiences are truly varied.
When he first came to the UK he worked on building sites, joined the Territorial Army, became a corporal and military instructor, teaching map-reading and field radio.
Before he entered academia he worked with special needs children for three years in a Norwich comprehensive.
'Hung-over'
People who say that military discipline will not work in a schoolroom have misunderstood how it works, he says.
"I had to teach map reading to a hung-over bunch of rough and ready jocks on a Sunday morning. At least half had had a miserable time at school, had no qualifications and were functionally illiterate.
"To get promoted from the ranks to Non-Commissioned Officer (NCO) you have to prove that you can command the respect of peers without recourse to the stripes on your arm."
He adds that joining the British armed forces is voluntary, so discipline cannot be coercive. This kind of discipline went out with the end of conscription into the National Service in the 1950s, he says.
"If you have to use coercive techniques for discipline you would find that your troops would all head for the exit".
Former NCOs and senior NCOs will definitely have the experience and confidence to walk into a classroom and command respect, he says.
However, while he broadly welcomes the government's plans he questions whether troops without degrees - no matter what their army skill levels - will be expert enough to become secondary subject teachers after just two years' training.
'Different path'
"There is a danger, particularly in sciences or maths where the amount of knowledge that has to be absorbed is very great, that two years' training could just be too rushed."
This is why at Phoenix, former NCOs hired from the local community, will take a different path into the classroom.
They will act as teaching assistants, teach remedial basic skills, and will "be totally in charge of PE and sport", as well as managing pastoral care, discipline, team-building and pupil data.
With the instructors coming from the same community, the professor hopes there will be a sense of mutual respect which will help instil good behaviour.
He does not rule out some of these staff becoming teachers in the long run, and they will be encouraged to take distance learning courses such as Open University degrees.