School spending protected from cuts, signals Osborne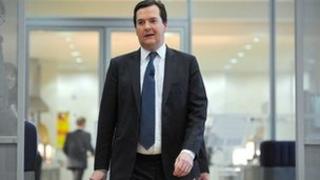 The ring-fenced protection of spending on schools is likely to continue, Chancellor George Osborne has signalled.
Next month the chancellor will present his Spending Review, which will see cuts in many areas.
There had been speculation that school spending might also face cuts.
But Mr Osborne said: "I'm also going to try to protect money going into schools, so that we educate our children for the future."
A head teachers' leader said that schools would want to see the detail of what part of the education budget would be protected.
Labour said that education had already faced "devastating cuts", which had left "classrooms crumbling".
Speaking on Tuesday, the chancellor said that seven government departments had so far agreed savings to be implemented from 2015, as part of a target of £11.5bn budget cuts.
'Tough choices'
Spending on schools had been protected in the previous public spending review, but there had been claims that this ring-fencing could be removed.
The Reform think tank last week floated the idea that school budgets could be cut by 18% without damaging standards.
Head teachers' union leader Brian Lightman had warned that such cuts would mean closing down "significant numbers" of schools.
But Mr Osborne said that the next spending round was about "tough choices" and that he had to make a "tough decision" in protecting areas of priority spending.
Along with spending on the NHS, he suggested that schools could also avoid the budget cuts facing other departments.
"I'm also going to try to protect money going into schools, so that we educate our children for the future," said the chancellor.
He said that "big sums of money go on things like the NHS and our school system" and that he had to make "tough decisions to protect those budgets by cutting the budgets of other departments".
If this ring-fence is confirmed next month, the Department for Education will still be expected to make savings, but the budget for schools will be protected.
Malcolm Trobe, deputy general secretary of the Association of School and College Leaders, said that head teachers would want to see the detail of what was being protected.
He warned that the school system had to serve a rising number of pupils, so the schools budget would need to have grown to maintain the same level of per pupil spending.
Mr Trobe also raised concerns about funding for older pupils, in the 16 to 19 age group.
He highlighted that protecting the overall budget for schools would not mean that individual schools would avoid a cut in budget, because of the "turbulence" in funding at a local level.
Labour's shadow schools minister, Kevin Brennan, rejected the idea that education spending had been protected.
"According to independent analysis from the IFS, David Cameron and Michael Gove have slashed spending on education by the biggest amount since the 1950s.
"School buildings have fared particularly badly with 60% cuts to capital spending, leaving classrooms crumbling and a huge shortage of primary school places. And as a leaked DfE memo reveals - schools are subject to a real terms cut in their funding. All this is threatening school standards," said Mr Brennan.