University course made for cheating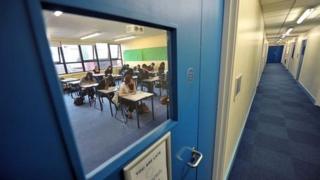 Cheating by students is being investigated in a university course dedicated to understanding the hidden world of academic deception.
The course, being run online, is for academics who usually have the task of preventing cheating.
It includes a "cheating confessional" to admit to forms of cheating.
Course leader Bernard Bull, from Concordia University Wisconsin, says there is more cheating going on than universities likely to admit.
"It's fair to say that more than half of students have cheated, even if only in some quite small way," said Dr Bull.
The rapid rise of online university courses has raised questions about how to prevent students from cheating when they are studying and taking tests from home.
'Poor cheating'
This course, on the Canvas online learning platform, wants to dig deeper into how and why people are actually cheating and find ways to organise courses in a way that will make cheating less likely.
Dr Bull said that there could be a simplistic view of cheating, based on what he called "poor cheating", which was usually characterised by students getting caught.
This typically involves copying material from the internet and trying to pass it off as the students' own work.
Dr Bull, based in the university's education department, said people liked to imagine sophisticated "bank robberesque" ways of cheating, but in practice it was much more likely to be cutting and pasting from the internet or relying on someone else's work.
Often students would have been better to put their efforts into studying, he said, rather than trying to get around plagiarism-detecting software used by universities.
A more modern twist, he says, was for students to write their own essays but then to plagiarise the list of reference sources, so-called "source deception", to give the impression of a wide range of reading.
A much tougher problem for universities is posed by essay writing services, where students can pay for customised essays or draw upon banks of stock essays.
Dr Bull said that universities could try to counter this by setting questions which involved a very topical element, such as asking about the relevance to current news event, to make it more difficult for old essays to be recycled.
Special pleading
Cheating can also be about manipulating academic staff to get a second chance or to extend deadlines.
Among the cheating incidents admitted to Dr Bull have been incidents involving imaginary sick relatives in other countries.
A more elaborate version involved the claim that the unsatisfactory work submitted by a student had not been their own, but had been dishonestly submitted in their name by a former partner, after an acrimonious break-up.
And this fiction had been believed allowing the student another chance to hand in an improved version.
Students might see this as a form of white lie, but Dr Bull said it was one of the most commonplace forms of cheating.
Students sometimes did not recognise their actions as cheating, he said, with a blurred boundary between collaborative working and dishonest collusion.
Dr Bull said cheating could take many forms - it might be laziness, but it could also be misplaced cleverness.
As such countering cheating should also be seen in more complex way.
Rather than elaborate technology, he said a strong relationship between staff and students might be a more effective way of deterring cheating. Although this would be more difficult for online courses.
High stakes, all-or-nothing exams, he believed to be more likely to attract attempts at cheating. A series of lower stake, more frequent assessments would be likely to reduce the levels of cheating, said Dr Bull.
There is also evidence that making students publicly commit to not cheating can be enough to make a difference.
In the US, universities can require students to keep these so-called "honour codes".
Dr Bull said that in one experiment academics invoked an honour code that did not exist, but even the idea of such a code seemed to act as a deterrent and influence students' behaviour.