UK shared exam system faces break up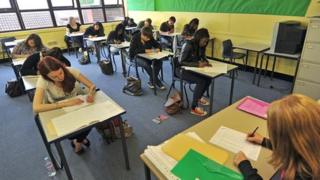 The shared A-level and GCSE system for England, Wales and Northern Ireland has taken a significant step towards being broken up.
Education Secretary Michael Gove has written to education ministers in Wales and Northern Ireland saying the joint exam system no longer has a future.
England's exam changes have not been accepted in Wales and Northern Ireland.
The education minister in Wales, Leighton Andrews, says Wales will not give up the GCSE brand for exams.
"The time is right for us to acknowledge the three-country regulation of GCSEs and A-levels is no longer an objective towards which we should be working," wrote Mr Gove.
He also raised the question of what such separated qualifications should be called - saying that the "titling issue" of different types of A-level and GCSE needed to be resolved.
'Different qualifications'
Mr Gove said he had received advice from England's exam regulator Ofqual saying that it will be "very difficult, if not impossible, to maintain comparable standards when the structure, content and even grading of these qualifications are diverging to such an extent".
Changes to A-levels and GCSEs in England, such as scrapping the modular structure and proposed changes to subject content, are not being followed by the devolved education systems in Wales and Northern Ireland.
Mr Gove also indicated last week that the grading of exams could be changed in England, moving away from the grading by letters - such as A*, A, B, C - and adopting a numerical ranking of 1,2,3 and so on.
Mr Gove, who met Leighton Andrews and Northern Ireland's education minister John O'Dowd last week, said the changes would mean "very different qualifications".
The mutual agreement over qualifications had already been strained - with divided views over last summer's disputed GCSE English results.
And there had been complaints that Wales and Northern Ireland had not been included in decisions about changing exams in England.
But instead of resolving such tensions, it now seems that Mr Gove believes the paths are dividing in a way that cannot be bridged.
"That is a natural and legitimate consequence of devolution," says Mr Gove's letter.
Breaking up
This common exam system has operated for decades. A-levels and O-levels were shared across England, Wales and Northern Ireland since the 1950s. When GCSEs were introduced in the 1980s, they were adopted in each of the three administrations.
Scotland has continued to have its own separate education system.
Despite Mr Gove's suggestion that the diverging exams should be re-titled, Leighton Andrews, education minister in Wales, has already signalled that he is not planning to drop the GCSE label.
On Tuesday, writing on Twitter, Mr Andrews said: "For the avoidance of doubt, Wales will continue to have GCSEs, A levels and AS levels."
He had earlier tweeted: "We wish Mr Gove well with his plans to rename these qualifications in England."
It will mean that there will be different forms of exam called GCSEs and A-levels operating in England, Wales and Northern Ireland - raising questions about how they should be interpreted by employers and universities.
At present, A-levels from England, Wales and Northern Ireland are considered as being of the same value for university applications.
Neil Carberry, the CBI's director of employment and skills, said that employers were used to working with different exam systems, such as already exists between Scotland and England.
But he warned that ministers needed to consider the "practical implications" of exam changes.
"Businesses will need to be crystal clear about the differences - to eliminate any confusion if people with similar sounding results, from either side of the border, go for the same job," he said.
Adding another layer of complexity, changes to GCSEs in England will initially be for a group of key subjects, which will mean differences between old and new types of GCSE.
There is further political uncertainty, with Labour in England saying that they would reverse some of the changes to A-levels if they came into office.
In Wales, there are plans for a substantial overhaul of the exam regulatory system, creating a single body which will be responsible for setting exams and maintaining standards.
On Monday, Mr O'Dowd announced some changes to A-levels in Northern Ireland, such as reducing re-sits, but he rejected key parts of the proposals for England, such as moving away from a modular system.
The education minister has said he has been "shocked" at how ministerial exchanges over the future of exams have been made public and that an "almost verbatim report of our meeting last week appeared in the media".
"I intend to continue working with all stakeholders, including my English and Welsh counterparts, to decide on a way forward that is based on sound research and evidence. Let me be clear, my main concern is to ensure that qualifications for young people here are robust and portable," said Mr O'Dowd.