School budget cuts 'no harm to standards'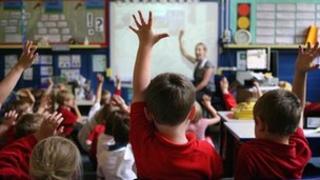 Almost one fifth of school spending could be cut without any damage to standards, a think tank claims.
The Must Do Better report from Reform says there is no clear link between more spending and higher achievement - and calls for the lifting of the ring-fenced protection on school budgets.
Co-author Kimberley Trewhitt wants to target spending at improving teaching.
Head teachers' leader Brian Lightman says that level of cuts would make many schools "impossible to run".
In effect, such spending cuts would mean significant numbers of schools would have to shut down, says Mr Lightman.
Spending pressures
The Reform report, ahead of next month's public spending review, argues that protecting school budgets is not necessarily the same as protecting school standards.
It says spending could be cut by 18% without any cut in pupil achievement - with this 18% figure based on an Institute for Fiscal Studies estimate on how much departmental spending across Whitehall will need to fall by 2017-18.
The Reform think tank, which promotes reform of public sector services, says spending on primary and secondary level education in the UK rose by 86% in real terms in the decade between 2001-02 and 2011-12.
But the report argues that achievement in schools varies in a way that is not linked to levels of spending.
It argues that using performance measures, such as Ofsted inspections and comparing schools' value-added results in English and maths, there is "no correlation at all between spending and outcomes".
International comparisons also show that higher spending will not necessarily lead to higher performance, says the think tank.
Protecting spending, rather than helping schools is a barrier to making them focus on how best to use their budgets, says the report.
It argues that schools need to make decisions about how their spending choices can make the biggest difference.
For instance, Ms Trewhitt says that raising the quality of teaching is recognised as having a positive impact on pupil performance.
As such, schools might want to "grasp the nettle" by spending on teachers and making savings on teaching assistants.
She also says that schools might choose to make a priority of teaching quality rather than smaller class sizes.
"Lifting the ring fence on the budget will help schools think harder about how best to use their resources. Their top priority should be improvement in the quality of their teachers as this is what really matters for pupil performance," said co-author, Ms Trewhitt.
The report also argues that a rise in the birth rate and increasing numbers of pupils in primary school will force schools to make tougher decisions about spending.
Brian Lightman, general secretary of the Association of School and College Leaders, attacked the report as "simplistic" and being built on "false assertions" about levels of spending received by schools.
"I have yet to find any school leader who will have seen an increase in real terms anywhere approaching the level indicated in this report. Indeed in the last three years schools have seen a significant reduction in real terms in their budgets," said Mr Lightman.
He said: "There is no way that anywhere near the level of funding reduction proposed in this report could be achieved without making a significant number of schools impossible to run.
"This report's attempt to link funding and school achievement is fundamentally flawed as its simplistic approach totally fails to take into account the different contexts of schools."
Chris Keates, leader of the Nasuwt teachers' union, strongly criticised the report.
"This crude attempt to draw a correlation between funding levels and educational attainment is misguided and methodologically flawed," she said.
"It appears to be designed to create the conditions for the coalition government to end the current protections which are already only minimal and inadequate."