Gardening not for 'thick or dull', says Titchmarsh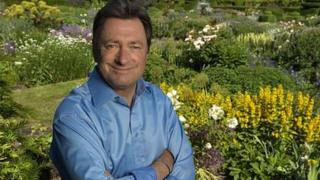 Gardeners need to show that their profession is not for "thick, dull or unadventurous" people, says television gardener Alan Titchmarsh.
In a Royal Horticultural Society (RHS) study, Mr Titchmarsh says gardening is "undervalued" by the young.
The study claims 72% of horticulture firms cannot find skilled workers, with teens viewing the job as "unskilled".
"If this situation continues, British horticulture will become a pale shadow of its former self," he said.
Mr Titchmarsh called for more to be done to reconnect young people "with apples rather than Apple Macs, plant cells rather than cell phones and raspberries as well as Blackberries".
Some 200 businesses were surveyed for the report. More than two thirds (67%) said that those entering the profession were inadequately prepared for work.
Almost one in five (19%) said they had to recruit skilled staff from abroad and 83% said they blamed difficulties on recruitment on a poor perception of horticulture in schools and colleges.
A separate survey of 500 secondary school teachers suggested that fewer than a third (30%) were aware of horticultural qualifications with only 20% aware of the "vast career opportunities" available.
Only 16% of the school staff surveyed promoted horticultural careers to their pupils, with many regarding gardening as a hobby rather than a career choice, says the report Horticulture Matters.
Earlier research has suggested that many teenagers believe careers in the sector are for those who have failed academically.
This poor perception of horticulture as a career is despite the fact that the industry contributes £9bn to the UK economy and employs 300,000 people, says the report.
"Our role is undervalued by government, by the population and by young people in particular," writes Mr Titchmarsh
"In every instance because they just do not understand the breadth of what we do and its importance in terms of the well-being of the planet and its population."
He writes that gardeners "have the best jobs in the world", ranging from "growing plants, designing gardens, managing open spaces feeding the population, looking after historic trees and famous gardens, conducting scientific research into plant breeding, pests and diseases, collecting plants in far-flung parts of the globe... the list goes on... 60 different areas to my reckoning".
'Green skills gap'
The report calls for urgent action to bridge the green skills gap, welcoming government plans to include gardening in the national curriculum as part of design and technology - but says more could be done.
"We ask government to embed horticulture across the national curriculum, to encourage young people to study further the subject in higher education and consider [the sector] as a future career," said RHS director general Sue Biggs.
"The horticultural industry is facing a skills crisis, ageing workforce and lack of young people coming into the industry."
"We are unanimous in the belief that there must now be urgent action to save British horticulture and it must happen now. Our report calls on the government, employers and those in the education system to take action to safeguard the critical role that horticulture plays in Britain today."
A Department for Education spokeswoman said reforms to the national curriculum were aimed at giving schools more flexibility in what to teach.
"In our draft Design and Technology curriculum, we have provided various topics in the programmes of study so schools can choose what they want to focus on. This includes horticulture as well as electronics or woodwork."
A spokesman for the Department for Environment, Food and Rural Affairs added: "It's really important that the horticultural industry is able to attract the right people to the sector.
"Through our Future of Farming initiative we are working with the industry to help more talented, entrepreneurial young people build careers across the agriculture sector, including horticulture."