Harder GCSEs 'will not guarantee higher standards'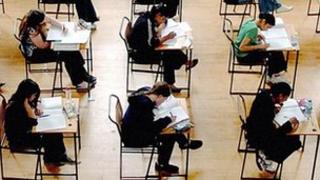 Tougher exams planned for England will not automatically boost standards, an Oxford University report argues.
Some 41% of pupils already fail to gain five "good" GCSEs under the current system, says the study from the Centre for Educational Assessment.
The authors argue for more educational support for low-achieving students, who are often from poorer backgrounds.
The government rejected the study's findings, saying that evidence in favour of its reforms was "very clear".
The planned changes to exams were outlined in the Queen's Speech to Parliament on Wednesday.
Better teaching
Under the reforms, GCSE grades will depend on exams taken after two years' study, rather than on modular exams spread over the course.
Similar changes are planned for A-levels.
The government says GCSEs have become easier and this is why the numbers of students achieving good grades rose year by year until recently.
The study counters many of these points, saying there is currently no clear single explanation for the rising trend in GCSE results, with little evidence of exam questions becoming easier.
The authors say that better results may stem from better teaching or pupils working harder than in the past.
The study also rejects suggestions that end-of-course exams will improve standards. It says that modular assessment is not necessarily easier, finding that "high stakes end-of-course examinations" risk "backwash effects", such as narrowing the curriculum and teaching to the test.
'Yawning gap'
Ministers say that England is underperforming in international measures but the report says there is little evidence to support this.
The authors draw on international studies going back to 1995, which do not suggest any decline in scores for English pupils.
In particular they highlight data from the 2011 Trends in International Mathematics and Science Study (TIMSS), which suggested that ten-year-olds and 14-year-olds in England were in the top ten countries for maths.
In science, England was in the top ten for 14-year-olds and in the top 15 for nine-year-olds, according to the same study.
Another study, from the Programme for International Student Assessment, put English students generally close to the average for Organisation for Economic Co-operation and Development (OECD) countries, says the report.
However, the authors note a "yawning gap between the highest and lowest performers in England, which is much greater here than in other countries and seems to be based on the social and economic factors of a school's intake".
'Grade inflation'
A co-author, Prof Jo-Anne Baird, said: "I think this highlights a need for better educational provision for low-achieving students who, according to the reports examined, are often from economically disadvantaged backgrounds."
A spokeswoman for the Department for Education said: "The evidence is very clear. We have fallen behind other nations, and as of 2009 we are ranked only 25th in reading, 27th in maths and 16th in science.
"Analysis shows that 15-year-olds in ten other countries are, on average, at least half a GCSE grade ahead of pupils in England in reading and maths, and at least one-third of a GCSE grade ahead in science. Our top pupils actually lose ground, as they get older, with their peers in countries across the world, and not just in the Far East.
"Grade inflation has undermined public confidence in our exams system. Until last year, GCSE grades had risen every year since the exam was introduced in 1988, yet employers complain that young people are leaving school not ready for work, and that the value of GCSEs has declined.
"Our reforms will put an end to grade inflation and ensure our exams match the world's best."