£7.5m university fund to train cybersecurity experts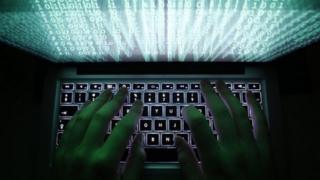 High-level cybersecurity experts are to be trained at two university research centres, with £7.5m in government and research council funding.
Royal Holloway, University of London and Oxford University will develop specialisms in resisting cyber-attacks.
This will support the UK's national cybersecurity programme.
"We must do everything we can to tackle this threat," said Universities and Science Minister David Willetts.
From this autumn, two university centres will be set up to train postgraduate students in the increasingly sophisticated battle between hackers, on the one hand, and businesses and governments.
Rogue states
They will be funded by £5m from the Department for Business, Innovation and Skills and £2.5m from the Engineering and Physical Sciences Research Council.
This is in addition to 30 GCHQ-sponsored PhD places, also supported by the national cybersecurity programme.
The government's National Security Strategy classifies the cyber-attack threat as being on the same Tier One level as terrorism, and warns of risks from rogue states as well as criminals.
According to the government, its own internet gateway faces an average of 33,000 "malicious emails" a month, which can contain links to "sophisticated malware".
Cyber-attacks have become part of the background of international disputes and economic power struggles, threatening targets in industry, finance, government and defence.
Intellectual property
The Oxford centre will study security issues concerning "big data", where large amounts of information are used in areas such as industry, health, transport and crime.
It will also consider "cyber-physical security", the idea that cybersecurity and physical security need to be addressed together rather than separately.
And it will research computer verification systems.
Royal Holloway's centre will be working with about 30 businesses and organisations in the security field.
Keith Martin, director of the university's Information Security Group, said this "represents a significantly different approach to research training, and we are looking forward to taking on the great responsibility of delivering graduates who will directly benefit the country".
Mr Willetts said: "Businesses are facing more cyber-attacks than ever before, putting their confidential information and intellectual property at risk. We must do everything we can to tackle this threat and make them less vulnerable. These new centres will produce a new generation of cyber-security specialists, able to use their skills and research expertise to improve cyber-security and drive growth."