Oxbridge rated best in world for seven key subjects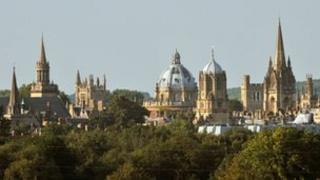 Oxford and Cambridge universities are the best places in the world to study seven key academic subjects, according to a new international table.
Oxford came top for English language and literature, philosophy, modern languages and geography in the QS World University Rankings by subject.
Cambridge was first for maths, linguistics and history.
Ben Sowter, of QS, said the study included employers' views and was a guide to graduate employability.
Civil engineering leader
"As the UK and governments around the world move towards the 'student pays' model on higher education funding, employability is increasingly crucial to graduates," said Mr Sowter.
Imperial College London was ranked as the world leader in civil engineering, while 17 other UK universities were in the world top 20 for at least one subject.
The table is based on a global survey of opinions of academics and employers. QS says it is the only international evaluation that allows prospective students to compare universities in particular subject areas.
UK universities do better in this list than in other comparison tables that rank universities by overall reputation.
Some 110 UK universities appear in these subject rankings, which look at 30 disciplines. Of these 65 UK universities are in the global top 200 for at least one subject.
John O'Leary, of the QS Global Academic Advisory Board, said the number of UK universities in the top 20 for at least one subject was "far in excess of the total achieved by any other country apart from the United States".
Top ranking in geography
In some subjects, UK universities are world-beaters, ahead even of the most prestigious US universities.
According to these tables, the UK is the best country to take a degree in geography, with UK universities dominating the global top 10 for this subject. Oxford and Cambridge take the top two places, with four other UK universities also in the global top ten: the London School of Economics (LSE), Durham, University College London (UCL) and Manchester.
Oxford was judged the best place in the world to study English, while Cambridge came second, ahead of eight US universities that took the rest of the places in the global top ten.
Overall Cambridge was in the top 10 for 27 subjects, Oxford for 15 subjects, Imperial for 10, LSE for seven, UCL for three and Edinburgh and Manchester for two each and Lancaster, Durham and London's Institute of Education for one subject each.
However, elite American universities are still strongest with Harvard top for ten subjects and Massachusetts Institute of Technology top for seven.
Nicola Dandridge of Universities UK said the tables were just a snapshot but showed that the UK had outstandingly good universities.
"The UK achieves this position despite spending less on higher education than many of our competitors. We should remain aware that other countries are investing more than the UK and that our reputation as a world-class provider of higher education is not a foregone conclusion", said Ms Dandridge.