Cambridge tutors to school A-level physics students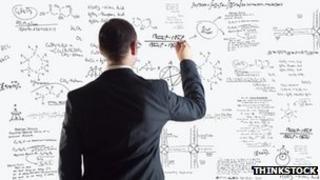 Academics from Cambridge University are to help tutor sixth-form physics students across the UK to prepare them better for university study.
The five-year project will offer online learning, workshops for students and support for physics teachers.
It is hoped the scheme will give students physics expertise beyond school level and encourage more to take the subject at degree level.
The scheme has been awarded a £7m grant by the Department for Education.
The initiative comes amid concerns that A-level students are losing the ability to solve complex problems independently.
A report published by the Institute of Physics in 2011 warned that A-levels were failing to teach pupils enough maths to study physics and engineering at university.
It suggested that many students are left struggling with degree courses because they lack a good understanding of maths, with sixth-formers simply taught to pass exams at A-level.
'Powers of analysis'
The online elements of the Cambridge Rutherford Schools Physics Project will be available in September while other parts, such as master classes for students, will follow.
Mark Warner, professor of theoretical physics, who will lead the project, said the university would work in close collaboration with teachers and schools, "within the framework of the existing A-level curriculum".
Prof Warner said: "The project team is delighted to receive the DfE's [Department for Education's] support for our initiative, which will equip prospective physics, maths and engineering students with the skills and powers of analysis needed for university studies.
"This grant will enable us to reach almost all school physics students in the UK, and to work with their teachers.
"We hope that the project will result in an increase in the number of talented and ambitious young physicists with the skills to make strong applications to university."
Rising popularity
In recent years, the popularity of physics has risen, but this follows a serious decline in the 1980s and 1990s.
Analysis of past A-level entries, by the Centre for Education and Employment Research at the University of Buckingham, shows there is still a long way to go before uptake is at the same level as it was 20 years ago.
In 1992, 41,301 students were entered for A-levels physics; in 2002 this fell to 31,543, but rose to 34,509 last year, the research shows.
Prof Alan Smithers, who compiled the figures, said it has always been difficult to attract the most able students into physics.
"Physics graduates are in such demand elsewhere that we probably don't have the teachers we need to inspire and enthuse pupils, so that explains the DfE grant.
"When we looked at schools bucking the trend [of decline], they tended to have groups of physicists together delivering really excellent person-to-person teaching."
Education Secretary Michael Gove said: "Professor Warner's brilliant project will give state school pupils access to advanced materials so they can develop problem-solving skills in maths and physics.
"Cambridge University physicists will provide support for science teachers and online resources enabling many more state school students to succeed at university."