Royal College of Teaching proposed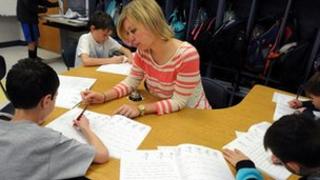 The creation of a Royal College of Teaching is under discussion as a way of creating an independent professional voice for teachers in England.
The AQA exam board has sponsored a collection of essays on how such a professional body might operate.
MPs on the Education Select Committee have backed calls for setting up a royal college.
But committee member Charlotte Leslie says it must be created by the teaching profession and not the government.
A series of think pieces in a booklet, Towards A Royal College of Teaching, sets out ideas for how such an organisation could help to raise the status of teachers.
'Recognised and respected'
Dame Joan McVittie, a secondary school head teacher and former president of the Association of School and College Leaders (ASCL) union, says any new professional body must avoid being seen as either an arm of the government or of the teachers' unions.
Instead, she says, a Royal College of Teaching should provide an informed, authoritative voice for teaching, with responsibility for setting standards.
But she questions how such a college would be funded.
Representatives of subject associations, Ian McNeilly, of the National Association for the Teaching of English, and John Steers, of the Council for Subject Associations, say there is a clear need to create such a professional body.
They say it is "utterly bewildering how a profession as vitally important as teaching still does not have a single, effective body that encourages and advances good practice in education".
Jon Prichard, of the Engineering Council, says a Royal College of Teaching could set professional standards and act as a forum to share and develop expertise.
James Westhead of Teach First, which recruits graduates into teaching, says it is not enough to simply create a new organisation, it needs to have a coherent vision that can inspire its members.
Before it can be taken seriously it will need to "build a brand, a reputation, an image and a reality that is unique, recognised and respected", he adds.
Brian Lightman, the ASCL's general secretary, backs the idea of a royal college, saying that he wants it to be self-regulating and to provide evidence-based arguments.
But the biggest challenge he believes will be to "to win the hearts and minds of the teaching profession" and to convince teachers of its value and credibility.
Russell Hobby, leader of the National Association of Head Teachers, is also backing the push for a royal college, saying it would provide an independent counter-weight to "destructive political interference".
National Union of Teachers' leader Christine Blower supports a College of Teaching - rather than a royal college - saying that it would promote professionalism. But she raises the question of how it might be used as a regulatory body.
The leader of the NASUWT teachers' union, Chris Keates, says a royal college should be a "standard-bearer for teacher quality and excellence". But she adds this is being undermined by policies promoting "de-professionalisation", such as allowing schools to recruit staff without formal teaching qualifications.
Momentum has been gathering for such a college, with the Prince's Teaching Institute planning to publish a blueprint next month.
Chris Pope, co-director of the institute, said: "The common thread in all my conversations has been recognition of the need for the teaching profession to establish an independent body that will promote and uphold high professional standards in teaching.
"This will benefit both teachers and pupils, and provide stability through changes in political cycles."
The previous professional body, the General Teaching Council for England, set up by the Labour government in the late 1990s, was abolished by the current government when it came into office.
Shadow Schools Minister Kevin Brennan said Labour also backed the proposals, but accused the government of having "undermined the professional status of teachers, by allowing 3,000 more unqualified teachers into the classroom since 2010".
The Education Secretary Michael Gove has also expressed his support for such a college, but warned in a speech last week that its creation should be driven by the teaching profession rather than government.
"The great thing about this idea is that it's about teachers taking responsibility for ensuring the profession is seen to be serious about standards," said Mr Gove.
"It sends a hugely important signal about the aims and aspirations of the teaching profession - and I wish those working on it every possible success."