University of East Anglia tops student experience poll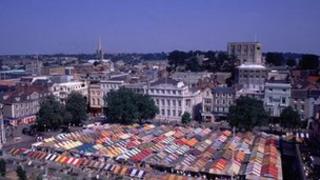 University of East Anglia students have the best overall experience of life as undergraduates, a survey suggests.
The Times Higher Education survey asked more than 12,000 full-time students to rate the quality of lectures, staff, social life and accommodation.
The top 10 were Norwich's UEA, Oxford, Sheffield and Cambridge in joint third place, Loughborough, Bath, Leeds, Dundee, York St John and Lancaster.
It is the first time Bath, York St John and Lancaster have made the top 10.
Oxford University was considered the best for the quality of staff and lectures, Sheffield had the best students' union, the London School of Economics was considered the best for industry connections, and Chester topped the list for most improved student experience.
University of East Anglia pro-vice-chancellor Prof Nigel Norris said: "Our commitment to providing a gold-plated student experience is long-standing and ingrained.
"It began long before the concept became central to universities up and down the land, and has been rewarded by a consistent top 10 ranking in the National Student Survey.
"This latest endorsement has been made possible only by the hard work and creativity of our academics, support staff and, of course, the students themselves who never cease to inspire us."
John Gill, THE editor, said: "With the government's higher education reforms ramping up levels of competition in the sector, improving the student experience has never been a greater priority for universities.
"The THE student experience survey aims to provide a snapshot of which universities are performing well in this area, and while no single institution can ever offer a blueprint for others simply to replicate, it should be possible to learn lessons from those universities that appear to be getting most things right."