Girls' school holds 'blow your own trumpet' week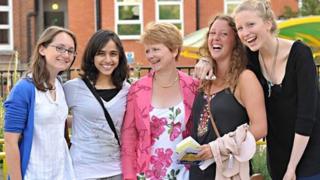 An independent girls' school is holding a "blow your own trumpet" week to help over-pressured, high-achieving pupils who find it difficult to accept that they have been successful.
"Some teenagers will continue to push themselves, never recognising when they've done enough," said Heather Hanbury, head of Wimbledon High School.
Last year the school ran a "failure week" to help girls cope with setbacks.
Now the London day school says it wants to raise girls' sense of "self-worth".
Ms Hanbury said that after last year's innovative "failure week" she had been contacted by fellow head teachers who said pupils could also have problems in coping with their achievements, with some girls unable "to accept success when it finally came".
Self-confidence
Without being able to acknowledge when "things have gone right", she said, some girls "might never be happy".
In response, the school, part of the Girls' Day School Trust group, is going to run its own Blow Your Own Trumpet Week, where pupils will be able to talk about their experiences of success and failure.
The head teacher said she wanted her pupils to be "confident in the things they're good at and to know they're not good at everything, recognising their own strengths and weaknesses".
"There is a tendency particularly among girls to focus on what they can't do," said Ms Hanbury.
"And this can go into later life, with women not getting to the positions they might do in their professions, because they are less willing to blow their own trumpet.
"Men are expected to promote themselves. If boys show off, it's seen as, 'That's the way that boys behave,'" she said.
The head teacher said girls needed to understand that taking credit for achievements was not the same thing as showing off or being boastful.
Celebrity culture
Teenage girls also faced confusing views of what success looked like, with the celebrity culture distorting how it could be achieved, she said.
"There is an idea that you don't have to work hard, you have to be lucky, catch the eye of someone famous or go on television."
Ms Hanbury argued that schools needed to help young people to develop their self-confidence.
"We want to build resilience, so if they don't do well in an exam, they don't become downhearted and that they realise it's not the end of the world."
She also cautioned against the pressure that could be put upon young people - both in terms of worrying about exams and the social pressures of a 24-hour online culture.
"Young people have always suffered from not keeping things in perspective - so the focus of 'success at all costs' has an even bigger impact on them.
"And they need that inner strength to know that if someone writes something mean on Facebook that it doesn't mean they are a worthless human being.
"We can't switch off Facebook, we can't stop them being influenced by advertising, but we can help to cope better with it."