University entry levels reach 49%
By Sean Coughlan
BBC News education correspondent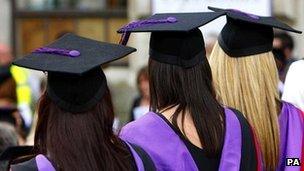 A record high level of 49% of young people in England are likely to enter higher education, according to the latest official estimates.
These figures for 2011-12, before the tuition fee increase, show an increase of more than three percentage points on the previous year.
They also show that young women are more likely to enter higher education - 55% compared with 45% of men.
The Office for Fair Access described the increase as "positive".
But Offa's director Les Ebdon warned that these retrospective figures could be distorted by applicants wanting to begin courses before tuition fees were increased, rather than deferring entry for a year.
This could see the participation rate falling again in future years.
Prof Ebdon warned that subsequent levels of university entry would need to be analysed.
"I am very concerned that demand from mature learners, and for part-time study, has fallen significantly," said Prof Ebdon.
But these official figures - the Higher Education Initial Participation Rate - show the continuing upward trend in the proportion of young people expected to go to university, based on the percentage of 17-year-olds forecast to enter higher education before the age of 30.
The figure is based on the number of young people living in England expected to attend a higher education institution in the UK.
The previous Labour government has said that it wanted 50% of young people to enter university, which had been seen as a controversially high level.
This latest estimate, based on the last entry before increased tuition fees, shows that this level has almost been reached. Among young women, the level has climbed to 55%.
This current total estimate of 49% set to enter higher education compares with 43% in 2006-07. This means that almost 60,000 more young people will be going to university each year than five years before.
The figures are released as an employment survey shows an important milestone in the UK's labour market - with more jobs requiring degrees than there are jobs available for those without qualifications.
The study from the Institute of Education shows a major shift since the 1980s, with shrinking numbers of unskilled jobs and now more than a quarter of the labour market being taken by graduate jobs.
A Department for Business, Innovation and Skills spokesperson highlighted the changes in the student funding system.
"The focus is on better information for applicants, more choice for students and stronger incentives on universities to deliver good teaching. The reforms to student funding ensure universities are funded properly to deliver a high-quality education system.
"Under our reforms the proportion of young people from disadvantaged backgrounds applying to university to start their studies in 2013 is at record levels.
"Most new students will not pay up front, there will be more financial support for those from disadvantaged backgrounds and everyone will make lower monthly loan repayments than they do now once they are in well-paid jobs."
Related Internet Links
The BBC is not responsible for the content of external sites.