What would a 'schoolification' of our nurseries mean?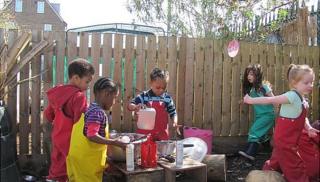 A chain of happy children trail each other joyfully around the garden dodging in and out of wigwams, wooden structures and plants.
Others work intently, like a team of chefs, making an imaginary cake out of shaving foam, mud, leaves and whatever else they can find in the garden of the Limelight Family Learning Centre .
Could they be the toddlers Children's Minister Liz Truss described this week as "running round with no sense of purpose" in "chaotic" nursery settings?
As in most of England's nurseries, the children at this one in Catford, south-east London, are allowed to go in and out of doors and pick activities as they please, a concept known as free flow in early-years-speak.
But it does not mean they have no interaction with adults. Ratios have to be maintained between children and staff, who are there to aid and support children's learning.
'More or less?'
The children may look like they are just messing around, but nursery manager Funda Mustafa says when children do something like "make a mud cake" they are practising a very wide range of skills.
"They're using their fine motor skills, gross motor skills, they are sharing and taking turns. They are socialising and interacting, working as a team and they are learning to use their own thinking skills.
"And there's a lot of mathematical language in there too. 'Is this heavy or light? Do we need more or less?' "
Child-led activities like this, and the notion that children can come and go as they please, underpin so much of what goes on in nurseries.
But the recent comments from the minister send a clear message that she believes this is not the best way of preparing children for school.
She said she had seen too many "chaotic settings" lacking sufficiently qualified staff where children were running around and, she claimed, not getting positive outcomes.
Indeed, academic research in 2007 suggested Labour's multibillion-pound investment in the Sure Start nursery scheme led to no improvement in standards when children started school.
She praised the French model of early years, saying: "There is a strong focus on structured learning, led by a qualified professional. I saw a teacher lead eight two-year-olds in putting together a series of plastic discs for a good 20 minutes. I was captivated - and so were they."
The Department for Education followed up the minister's comments, saying it was a "myth" that free-flow play was compulsory, adding that there was no reason why structured teacher sessions could not also be the norm.
It added it was important for parents to have a choice of different approaches in early years settings - so they could choose what works best for their child.
Physical development
But what would the impact be of closing the doors and bringing out the tables and chairs?
The biggest representative of nursery and childcare providers, the Pre-School Learning Alliance, says it would be a "schoolification" of nurseries and a lessened experience for youngsters.
Its chief executive Neil Leitch says: "The government seems to forget that the statutory age for schools is five years old. It seems they want to formalise education for children who are younger and younger.
"Liz Truss's vision seems to be that you have a row of two-year-olds lined up in a very regimented way receiving direction from a teacher."
According to Prof Elizabeth Wood, an early education expert at Sheffield University, the minister is going against "50 years' worth of rigorous empirical research".
The professor says: "What she is saying is coming from personal opinion and political dogma. It is in no way related to the knowledge-based rigorous evidence of what two to four-year-olds are like."
Children who are confined indoors and sitting in chairs, at this age, will miss out on a large part of their physical development, she says.
If we shut the doors on our nurseries, she says, it is very likely that children will not learn to combine the whole range of different motor skills they need, for example, to develop strength, stability, balance and co-ordination.
Creating wild areas
"We have seen a huge expansion of development of outdoor spaces in the last 20 years with nurseries and children's centres building playgrounds and fitting poly-tunnels, and adding other equipment. All this is grounded in research that says it is very important to have a rich and varied outdoor space," she said.
But it is not just about being active and developing the physical skills children need to use knives and forks, let alone pens and pencils.
Nursery teacher Corinne Thomas says taking the outdoors away will lead to "high levels of stress among our young children".
She says free flow is all about having access to a "vastly superior learning space" that is very effective in promoting "periods of sustained thinking and learning" for the child.
"It allows children to be engrossed in their play at a far deeper level because they are not constrained by space or interrupted by noise as they are inside."
Conversely, when young children sit at tables and chairs, she says, the way they behave changes. They expect to be led by an adult.
Like most nurseries, Darell Primary and Nursery School in Kew, where she works, offers a balance of child-led and adult-led activities.
As the academic year progresses, children are encouraged to take part in staff-led activities such as printing and drawing. These might last anything between five and 20 minutes depending on the child taking part. All the children take part in circle time, where staff share books, stories and conversation with them.
Ms Thomas says bringing in formal teaching, which gets children to sit down and practise writing, for example, too early would be counterproductive.
"They have to push cars along the ground, push trains up and down a track. They have to have all those experiences before they can pick up a pen and write their name. If we force it we will, in the end, stunt their development."
Limelight centre manager Mrs Mustafa agrees: "We know when children are ready because they show an interest. Every child is unique and every child learns at a different pace."
This is evident as the children are rounded up to sit in a circle on the carpet for some group songs at the end of the session.
Some happily join in counting songs, the rhymes and actions while others stamp their feet in a completely different way and attempt to wander off. The staff gently encourage participation but they don't push anything too hard.
As Mr Leitch says: " You can frighten the hell out of children and make them sit in a row for as long as possible but the question is, is it the right thing to do?"
The second and final part of this series on nursery education will look at a more formalised approach to teaching two and three-year-olds.