Gove urges longer days and shorter holidays for pupils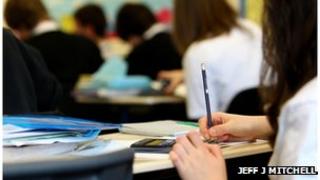 Pupils in England should spend more hours at school each day and have shorter holidays, the Education Secretary Michael Gove has argued.
In the most successful East Asian education systems, "school days are longer, school holidays are shorter", Mr Gove told an education conference.
He added that current school terms were designed for "an agricultural economy".
The headteachers' union ASCL said quality of learning was more important than hours spent in the classroom.
Speaking at an education conference in London, Mr Gove said: "It is already the case that some of the best schools in the country recognise the need to change the structure of the school term.
"It's also the case that some of the best schools in the country recognise that we need to have a longer school day as well."
'Tattie holiday'
He argued that a longer school day would also be more family-friendly and "consistent with the pressures of a modern society".
"I remember half term in October when I was at school in Aberdeen was called the tattie holiday, the period when kids would go to the fields to pick potatoes.
"It was also at a time when the majority of mums stayed home. That world no longer exists, and we can't afford to have an education system that was essentially, set in the 19th Century."
Mr Gove added that a longer school day was the norm in East Asian nations.
"If you look at the length of the school day in England, the length of the summer holiday, and we compare it to the extra tuition and support that children are receiving elsewhere, then we are fighting or actually running in this global race in a way that ensures that we start with a significant handicap."
Mr Gove said that some academies (state schools outside local authority control), were already running longer school days while others had changed the structure of their school terms.
Tea at school
Examples of longer hours and terms from the Department for Education include the David Young Community Academy in Leeds which operates a seven-term year starting in June. The basic pattern is a maximum of six weeks at school followed by a maximum of four weeks holiday.
In Hillingdon, Harefield Academy has a number of day boarders who are talented athletes. They arrive very early at school and sometimes don't go home until seven or eight at night. In the evenings they have their tea at school before catching up with homework and extra sport training.
Changes brought in by the government in 2011 also allow local authority schools to extend their school day. However schools are expected to consult and to take account of the views of all interested parties before they implement any changes to the school day.
Last year Nottingham City Council abandoned plans for a five-term school year after some teaching unions and parents said it was disruptive, particularly to families and staff members with children at schools outside the Nottingham area with traditional terms.
Brian Lightman of the Association of School and College Leaders (ASCL) said: "Some schools are introducing innovative changes to the school day and term and it will be interesting to see what effect these have in the longer term on achievement."
He warned that changes should be based on sound, researched evidence, "not on anecdotes from other countries with vastly different cultures and attitudes to education".
Christine Blower of the National Union of Teachers said: "Teachers and pupils already spend longer hours in the classroom than most countries and also have some of the shortest summer holidays."
Mary Bousted of the Association of Teachers and Lecturers accused Mr Gove of point-scoring and said: "It is as if he is in a sixth form debate rather than a government minister.
"Despite official figures showing that the average teacher works more than 11 hours of unpaid overtime each week, despite most teachers having to prepare and mark work in the evening and at weekends and despite many teachers voluntarily coming in during school holidays because they care about the future of their pupils, the Secretary of State says that schools should be open longer."