Record philanthropic fund-raising for UK universities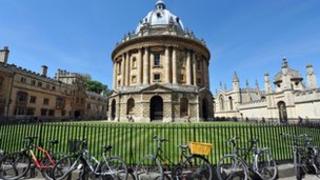 Universities in the UK were given a record amount in philanthropic donations last year, research suggests.
UK institutions were given £774m in 2011-12, up 14% on the year before, according to a survey.
The "funds" raised include donations, pledges, legacies and "gifts in kind".
The study, by the National Centre for Social Research, shows a varied picture, with Oxford and Cambridge accounting for half the new funds.
Six institutions secured more than £20m in new funds, while 29 received less than £100,000.
Some universities saw their donations fall and the average level of donations received by individual universities fell, suggesting that while some universities did very well, others did not.
It is the second consecutive year that a record amount has been raised and the total for last year is up 33% on 2009-10.
A total of 143 institutions in England, Wales, Scotland and Northern Ireland took part in the survey, including eight further education colleges.
Overall, almost 170,000 alumni made a donation in 2011-12, the research says, up 5% from the year before.
Non-alumni donors rose in number by around 11%, to almost 44,000.
'Fantastic news'
Universities are spending more on fund-raising from past students and philanthropists, and employing more staff to work on it, the research suggests.
The average (median) cost per pound received rose to 36p last year.
The research was carried out for Case (the Council for Advancement and Support of Education Europe) and the Ross Group, a network of higher education fund-raisers.
Kate Hunter, executive director of Case Europe, said: "It's fantastic news that we're seeing continued growth in higher education philanthropy, despite wider economic pressures and the end of the government's matched funding scheme.
"As giving to higher education grows, we need to ensure institutions are supported in developing this important stream of income."
Matched funding schemes for England and Wales, whereby money raised by universities had been matched with public funds, ended in 2011.
But last year the UK government abandoned plans to limit the tax relief given to those who donate to charity after an outcry from universities, the arts sector and charities. It had said it wanted to clamp down on tax avoiders.
Kate Robertson, director of development and alumni relations at Nottingham University, said the university had done "pretty well" this year and had received the largest corporate gift outside Oxbridge.
'Power of education'
The university was given £11.5m from pharmaceutical company GSK for a new "carbon neutral laboratory" focused on "green chemistry" and also received £2m from former student David Ross, co-founder of the Carphone Warehouse, to be spent on encouraging children to aspire to university and improve their chances.
Ms Robertson said: "There is no great secret [to fund-raising], but the biggest rate of success is achieved by asking. You don't get if you don't ask.
"There has to be a reason for us to engage with donors. It's about aligning with their interests. Higher education is a magical place: there is a lot of diversity and the power of education to change society's problems is a captivating argument."