'Take bare boobs out of the Sun' urge Guides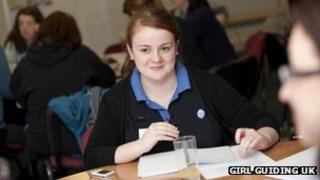 The half-million strong Girlguiding movement has added its voice to a campaign to persuade the Sun newspaper to drop its Page Three topless pin-up.
It has signed a petition urging Sun editor Dominic Mohan "to finally take bare boobs out of The Sun".
Girlguiding UK signed the No More Page Three petition after a poll of members.
"I believe it is wrong for women to be reduced to mere sexual objects in a family newspaper," said guide Katie Wormald, 17, whose idea the vote was.
The online poll of more than 2,000 guides aged between 16 and 25 took place last month. Some 88% said they believed the Sun should end Page Three.
The Guides have now adopted the campaign to end Page Three as official policy.
"Children shouldn't grow up thinking that this is the norm and that it is right. Young girls shouldn't grow up thinking that they will achieve more by being sexually objectified," added Katie.
"Also it is one clear step to reducing the amount of everyday sexism in our society."
Miss Wormald is one of Girlguiding's Advocates, a group of guides who help the movement decide how best to give girls a voice on issues affecting their lives.
In a letter emailed to Mr Mohan on Monday the group writes: "We know that the Sun is a family newspaper.
"Anyone can pick it up and turn to page three and think that it is normal for young women to be treated as objects.
'Iconic' sexism
"We feel that this is just wrong and has to stop.
"As a young woman in UK society, it is impossible to nurture your ambitions if you are constantly told that you are not the same as your male equivalent.
"This is what Page Three does. It is disrespectful and embarrassing."
The letter is signed by Katie and fellow guides Bijal, Lauren, Lucy, Victoria and Amy.
Campaigner Lucy-Anne Holmes, who runs the No More Page Three campaign said: "It's absolutely brilliant that Girlguiding's young members have voted to support our campaign to bring an end to the most iconic piece of sexism in our national press.
"We have heard too many stories of how Page Three negatively impacts on young women and girls, either because of boys' reactions to it or girls' own feelings about their bodies and self-worth caused by being presented with such narrow definitions of beauty on a daily basis."
Before the Guides backed the campaign the petition had attracted just under 90,000 signatures. Their support will give it a significant boost.
A spokeswoman for the Sun said it currently had no plans to comment on the letter. However the paper's owner Rupert Murdoch in February hinted on Twitter that Page Three might be replaced with a "halfway house" of "glamorous fashionistas".
He was responding to a tweet which said: "Seriously, we are all so over page three - it is so last century!"
Murdoch replied: "You maybe [sic] right, don't know but considering."