Stripping councils' adoption role 'a reckless gamble'
By Katherine Sellgren
BBC News education and family reporter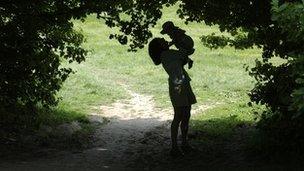 Plans to strip some English councils of their role in the adoption process would be a "reckless gamble", the Local Government Association has said.
Ministers have criticised a number of councils for failing to find homes for children waiting to be adopted.
Local authorities have said they will work to reduce by half a 2,000-3,000 shortfall in adoptive parents by 2014.
Councils also pledged to work more closely to match adopters with children and target those in care the longest.
In January the government told councils there were "significant weaknesses" in the way they found adopters.
Children and Families minister Edward Timpson said councils were not doing enough to address the national shortage of adopters and could lose their powers over adoption services if they were slow to find homes for children in care.
But the Local Government Association (LGA) says removing councils from the process of recruiting adopters would be a "reckless gamble".
According to official figures, there were 4,600 children waiting to be adopted in England in March 2012.
In a joint response to central government, the LGA, the Society of Local Authority Chief Executives (Solace) and the Association of Directors of Children's Services (ADCS) have set out their proposals to "significantly increase" the number of adoptive parents recruited and speed up the process of finding new homes for children in care.
Under the reforms, councils would work more closely to match suitable adopters with children in other parts of the country.
Councils with successful track records in adopter recruitment would be made "member champions" to pass on information to others.
Any "persistent poor performance or unwillingness to engage in improvement" on the part of an authority would be dealt with by the LGA improvement and innovation board.
A new communications plan would ensure key players in local government understood the issues that needed to be addressed in order to tackle the shortage of adopters.
The groups will also explore the potential for incentive payments or payments-by-results for adopter recruitment.
The submission to ministers says: "Our collective ambition is that by 31 March 2014, the national adopter shortfall estimated by DfE [Department for Education] at 31 March 2012 to be between 2,000-3,000 will be reduced by more than 50%."
Councillor David Simmonds, chairman of the LGA's Children and Young People Board, said local authorities had a vital role to play in the adoption process.
"We know that adoptive mums and dads value the support and relationship they have with their local authority, and it is a fact that councils have twice the success rate of independent adoption agencies.
"However, there are things which we could do better. We have set out an honest appraisal of what we can do better, and how we will ensure those improvements happen quickly.
"Government needs to play its part by finally delivering on its pledge to reduce the heavy legal burden of care proceedings and ridiculous bureaucracy which causes huge delays that can put some people off adopting altogether.
"Removing councils from the process of recruiting adopters would be a reckless gamble that risks making things worse for adoptive parents and children in care.
"Parents tell us they value the consistent support that a council social worker offers throughout the process, with many continuing to offer assistance long after the adoption has taken place. Government's starting point for recruiting more adopters needs to be working with councils, not removing them from the process altogether."
Voluntary adoption agencies
President of ADCS Debbie Jones said regional collaboration was key to improving adoption services.
"The overwhelming majority of local authorities already work collaboratively with other adoption agencies locally to find families for their children.
"An increase in the number of regionally based strong federations is key to improving the way that adoption services work. ADCS will play an active role in facilitating this collaboration."
A spokeswoman for the DfE said: "We are breaking down barriers to adoption but there are over 4,000 children currently waiting to be adopted in England and councils are simply not recruiting enough people to give them stable and loving homes.
"That is why we are open to changing how we recruit new adoptive parents by giving voluntary adoption agencies a bigger role.
"We will look carefully at these proposals from the LGA but if local authorities do not rise to the challenge we won't hesitate to intervene."
Related Internet Links
The BBC is not responsible for the content of external sites.