School farms and eating animals you have cared for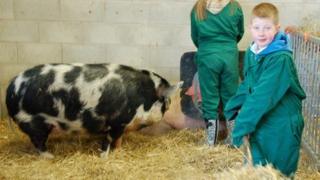 Increasing numbers of UK schools are starting up their own farms. The 100th opened last month, with at least 100 more planned, according to the School Farms Network. At Reddish Vale Technology College in Stockport, which has had a farm since 1986, pupils face the dilemmas of caring for animals raised for their meat.
Jack, Molly and Jordan, all 12, are shovelling pig dung into a pile and loving it.
Luke, 11, is making sure that Arthur the pig does not escape while they have the gate open "and smash up the rabbit hutches".
The others are busy at work with brooms so that the poo and dirty straw are ready to be transferred to the muck heap where they will rot down and be used to make compost for the school farm's gardens.
They are here every schoolday morning at 7.15 sharp.
Luke, who once struggled to wake up, is now keen to get to school nearly two hours before lessons start.
Rising early
"I like the animals. They're worth getting up for."
He also says his behaviour is better: "Instead of fighting I just talk about it. I don't tend to use my fists any more."
Jack agrees the farm has had a positive effect: "People say they have seen a big change for the better in me."
"It calms me down so I am ready to learn. I like the animals. I like cleaning them out".
There are 1,300 pupils aged from 11 to 16 at Reddish Vale Technology College in Stockport, Greater Manchester. Jed Murphy is one of the science teachers.
He says that although the farm has a role as a haven for pupils who need extra support it also has educational relevance across the curriculum from art and technology to maths and science.
The farm is a resource for a range of qualifications offered by the school, from a GCSE in "environmental and land-based science", otherwise known as agriculture, to a certificate in animal care.
Mr Murphy is emphatic that this is a working farm and not a petting zoo.
Farm ethics
It allows the school to focus on issues crucial to the modern food industry, such as where food comes from, animal welfare, poor diet and waste.
Pupils help grow vegetables, fruit and flowers, which they sell through the farm shop. They also help raise livestock that is ultimately sold for slaughter.
Soon a decision must be made about whether a pair of sows that have failed to produce piglets should go for slaughter. Last year the school sold sausages made from its own pigs.
"The future of the pigs is a tough question. We will make the decision but will discuss the options with pupils. I would like them to understand how traditional farming works. The animals are fed and looked after well but ultimately they are sold for slaughter. We have to be strong here and say what this is really about," says Mr Murphy.
Josh, who wants to be a vet, thinks their fate is tough, disapprovingly describing it as "tight", but he still loves a bacon butty for breakfast.
"When they are having a good life it's tight for them to go and get slaughtered, but I think bacon is tasty."
"I find it really upsetting - but it's something I have learned to live with. I am not a vegetarian," says 14-year-old Shannon.
Her friend Emily shares the sentiment but has decided to limit what she eats: "I eat some meat. I will eat chicken."
Pupils and staff say the key thing with meat that they have reared is that they know where it comes from, particularly after the recent horsemeat scandal.
In the summer, pupils are encouraged to pick and eat vegetables from the school gardens. Eating peas straight out of their pods is a new experience for children more used to ready-meals.
The adults notice how much longer the school's lettuces stay fresh compared with their plastic-packed supermarket equivalents.
Mr Murphy says he is still appalled at how little some of his students know about agriculture.
"Some of my GCSE students didn't know what hay was until I told them. There is still a long way to go."
'Profound effect'
Prof Murray Saunders, of Lancaster University's faculty of arts and social sciences, says the way that supermarkets price and present food is distorting the reality of food production, particularly for young consumers.
"When supermarkets sell four litres of milk for a pound, the reality is that they are screwing down milk farmers in an absurd way. Selling six chicken thighs for 50p means you are not reflecting the reality of a real bird being slaughtered for food.
"If you have a school farm you bring that reality to pupils. Even growing a line of cabbages and realising that you have to work quite hard to get something decent - or thinking about what happens to animals when they go off to slaughter, even just having a cow or a real live pig standing there - can have a profound effect."
Prof Saunders is researching how schools with farms use them to enhance lessons across the curriculum as well as to boost pupils' confidence and teach them about healthy eating and where food comes from.
"I think every school can gainfully use farming seriously for educational purposes, even it it's just having a flock of chickens."
Some school farms are far more than that, producing organic meat and vegetables for their school dinners. Oathall Community College in West Sussex boasts a full milking herd of Ayrshire cattle, a flock of sheep with around 70 lambs a year, and pigs poultry and bees.
At Reddish Vale, space for livestock is more limited so there is just a handful of pigs, goats, sheep and poultry. But even this has helped change the way students think about food.
Jordan is looking forward to watching the sheep give birth.
"I know it sounds nasty but it will be an experience. I am hoping to handle the babies and maybe hand-rear them if they need it."
Shannon is equally fascinated: "I have always had a passion for animals. Watching them give birth is part of the cycle of life."