GCSE changes to final exams 'will disadvantage girls'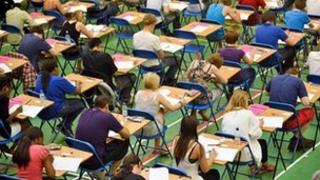 Changes to GCSE examinations in England could disadvantage girls and see their results fall, teachers warn.
There are plans to switch to final exams at the end of two years, rather than in a series of smaller units.
But the Association of Teachers and Lecturers (ATL) says girls often lack the confidence to perform well in a final exam system.
Girls have been outperforming boys in GCSEs at grades A*-C for more than 20 years, data shows.
GCSEs currently allow pupils to complete coursework projects and extended essays, as well as a final exam.
'High-stakes testing'
But Geoff Venn, a former chief examiner in chemistry and retired teacher from Bedfordshire, said: "If Michael Gove is going to go back to the idea of one final exam, purely memory-based, then we could see a situation where GCSE results for girls go down.
"Where we have high-stakes testing, girls feel less confident to excel. Boys are more adventurous and can go into the final examination and feel more confident in doing it," he told the ATL annual conference in Liverpool.
Mr Venn, who was on the board of a former CSE exam board in the early 1990s, told delegates: "I was involved in exams back in the time when GCSE was being introduced, and during the time immediately afterwards."
One of the big developments that occurred during that time was the gradual increase in the percentage of girls who were succeeding in GCSE generally and particularly in science GCSEs, he said.
"This, we felt, was very often, because of the different ways in which assessment was being used, and different forms of assessment.
"If we go back to pure rote learning, to pure single exam at the end of the course, will this have a considerable gender impact on the results that we get? Is it going to be discriminatory against girls?
"I have a strong feeling that it will be. I think it's one of the aspects that needs to be looked at before we go forward with this type of assessment and examination."
ATL general secretary Dr Mary Bousted said it was "certainly true that girls are more diligent, girls are certainly more conscientious".
"It may be that the rise of girl power in examinations is down to the more measured way of assessing, of which coursework is a part."
The Department for Education denied there were gender differences in how pupils performed in different exam structures.
"These claims are wrong. There is no clear evidence that girls struggle with end of year exams," said a DfE spokeswoman.
"The education of both boys and girls suffers from an over-reliance on modules, coursework and controlled assessment. All these methods of assessment are subject to gaming and they all take time away from teaching and learning."
The new GCSE qualifications, for courses starting in the autumn 2015, will be drawn up by exam boards for approval by the exams watchdog, Ofqual, in the core subjects English, maths, the sciences, history and geography.
In subjects such as English and history, the exams will test essay writing, while in maths and science there will be a greater focus on quantitative problem solving.
Pace of change
In its debate on exam reforms, the ATL accused Mr Gove of not listening to their concerns about the pace of change.
Simon Clarkson, a physics and science teacher from Leicestershire, said "rushed-through" changes meant children would be left with a curriculum of poor quality.
Mr Clarkson said he was currently teaching pupils skills, such as problem-solving, that would prepare them for everyday life.
"And yet it looks almost certain that I'm going to be teaching fact after fact after fact."
In his speech to the ATL conference on Wednesday, Shadow Education Secretary Stephen Twigg also criticised the pace of reforms to GCSEs and A-levels.
The timescale for the changes to GCSEs has prompted concerns among teachers because it coincides with reforms to A-levels
where, for courses starting in 2015, pupils will take exams at the end of two-year courses.
"Increasingly, at almost every school I visit I am told that the pace of change in education at the moment is undermining education standards," Mr Twigg told delegates.
"We have changes to GCSEs planned to be introduced at the same time as changes to A-levels.
"And we have changes to AS-levels that will represent a major step backwards for young people in this country."