School admissions appeals may not be fair, says watchdog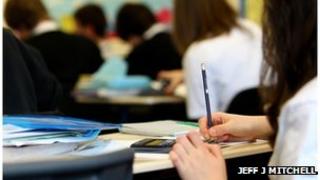 Parents whose children fail to get into academies or faith schools in England may not get a fair right of appeal, claims an official legal watchdog.
Some appeals for schools outside local authority control lack independence and transparency, argues the Administrative Justice and Tribunals Council (AJTC).
The rules allow these schools to run their own appeals, says the watchdog.
A government spokesman said a new Fair Admissions Code included clear rules on admission appeal arrangements.
The AJTC says the current system for academies and faith schools is confusing and appears to lack independence. It is particularly concerned that the growing number of academies could mean that increasing numbers of families will be left without an effective appeal system.
'Transparency lacking'
"Not only do these panels lack independence; their operation lacks any degree of transparency or public accountability since there is little or no information published about them," argues AJTC chairman Richard Thomas in a letter to the Education Secretary, Michael Gove.
In the letter, Mr Thomas backs recent calls for "the secretary of state to identify an organisation that is well placed to provide an independent appeals service".
In January, a report by the Academies Commission found that the current system was unnecessarily complex and that a proliferation of schools handling their own admissions was a threat to social mixing and equality of access to good schools.
Mr Thomas suggests that the most obvious solution would be for local authority appeal panels, which currently hear appeals for the schools they still run, to handle those for all state schools in their area, including academies and faith schools.
He adds that some academies have already come to similar arrangements with their local authorities.
"We do not believe that this suggestion would be inconsistent with the ethos of academies having freedom from local authority control as it is important to remember that the independent appeal panels are concerned solely and primarily with access to justice."
He argues that this would work well with local authorities' continued responsibility for ensuring that all children in their areas have school places.
A spokesman for the Department for Education said: "All admissions authorities, be they local councils or self-governing schools including academies - must comply with our new fair Admissions Code which includes clear rules on admission appeal arrangements.
Law changed
"We specifically changed the law so that anyone with concerns about how a state-funded school is admitting pupils can formally object to the Office of the Schools Adjudicator."
Councillor David Simmonds, chairman of the Local Government Association's Children and Young People Board, said: "Mums and dads put huge effort into finding a school that will give their child the best start in life and if their child fails to secure a place at a school of their choice they are right to expect the appeals process to be fair, transparent and publicly accountable.
"There also need to be robust arrangements in place to weed out fraudulent applications by some parents seeking to gain an unfair advantage over other children.
"While we fully support school choice, it's clear that in the increasingly diverse education system some parents are feeling let down by the current complicated admissions and appeals process.
"Local authorities go to great lengths to ensure their appeals panels are made up of independent and trained experts who hear appeals for all locally maintained schools. It is only right that all schools should be subject to the same rigorous process to ensure every child has fair access to a good education."