School funding for councils announced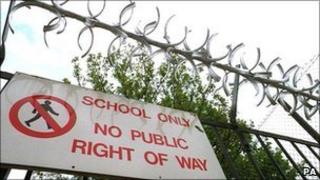 England's councils have been told how they will share a £4bn allocation of funds to provide extra school places and repair school buildings over the next two years.
They have complained about delays to the announcement from the Department for Education.
There is a shortage of places in several areas, especially London.
Councils will bid for a share of nearly £1bn pledged for extra school places last autumn.
While the other £3bn is money pledged earlier for extra places and building maintenance.
Councils will recommend whether the places funded by the £1bn are put in existing schools or new free schools and academies, giving them back more control over planning for schools.
The birth rate has been rising and it is predicted that England's primary school population will grow by 18% in the next eight years, meaning many new places are needed.
London councils estimate an extra 90,000 places will be needed by 2015-16.
'Red tape'
The demand for places is being met by the building of new free schools and academies and the expansion of existing schools.
The government says it has been working with local authorities over the past year to ensure that funding is distributed more fairly across the country and that this has involved gathering more detailed data about local needs.
This was the reason the announcement was delayed, officials say.
And to help in longer term planning, allocations for extra places are being given for two-year periods rather than annually they say.
David Simmonds, from the Local Government Association, said he was pleased the government was acknowledging the pressures councils were facing in providing school places.
"While government struggles to get its act together, councils have been stepping in to keep schools running," he said.
"Delays to already promised school funding mean local government is working to address the basic repairs needed to keep schools open, such as fixing leaky roofs. But we could deliver so much more with funds that are currently tied up in government red tape."
'Nonsense'
The Conservatives have accused Labour of not planning properly for school places when it was in power.
Education Secretary Michael Gove said: "Labour ignored warnings about the rising primary school population and even cut funding for new places. By contrast, we are doubling spending on new school places to more than £5bn over four years.
"When we warned Labour about this problem they said we were talking 'nonsense'. Now we are taking action to clear up their mess."
Labour has rejected the claim, saying pressure for new places has increased since 2010.
Shadow education secretary Stephen Twigg said: "We have seen huge cuts under this government to the budget for school buildings. It is no wonder that many schools are in poor repair and overcrowded.
"This money is long overdue. Hundreds of school rebuilding projects have been cancelled and only 3% of schools which need repairs have been rebuilt in three years."
BSF controversy
The issue of school buildings has been controversial following the cancellation of the Building Schools for the Future (BSF) programme brought in under Labour, which was intended to rebuild all the secondary schools in England.
The coalition scrapped the £52bn scheme, saying it was too expensive and bureaucratic, meaning many councils had to abandon plans for new schools or building projects.
Instead, it identified 261 schools most in need of repair and set up a new scheme, the Priority School Building Programme, to do this work, which has funding of £2.4bn.
The government put the work out to tender and the successful bidders for contracts for the first two groups of schools were announced in January. Six other tenders have yet to be awarded.
Local authorities have a legal duty to provide places for children, but decisions on who can set up new schools are ultimately taken by central government through the academies and free school programme.
Teachers' unions have campaigned for councils to be given back control over planning for school places.