East Asia universities 'gain ground in world rankings'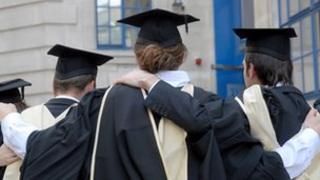 Universities in East Asia have gained ground on western institutions in the latest university reputation rankings.
Oxford and Cambridge remain in "an elite top six of Anglo-American super-brands", according to Times Higher Education magazine's 2013 rankings.
But the survey also shows that three UK universities have fallen out of the top 100 since 2011.
"Outside the chosen few there is cause for alarm," said rankings editor Phil Baty.
Cambridge came third and Oxford fourth in the rankings, behind Harvard in first place and Massachusetts Institute of Technology in second.
There were 12 UK universities in the global top 100 in 2011 when the tables were published for the first time. Now there are nine. The University of Leeds fell below the line this year. Sheffield University and the London School of Hygiene and Tropical Medicine dropped down last year.
'Elite institutions'
The list is calculated from a survey of leading scholars who are asked to rate leading institutions in terms of impact on their own subject areas.
"There is some good news for the UK, but only for a handful of its elite institutions," said Mr Baty.
"Traditionally, the strength in depth of the UK system has been one of its great features. Having a large number of institutions with truly world-class standing has delivered huge returns for the whole sector and the wider economy. However, it now seems that a gap is opening up between the very best and the rest.
"With the coalition government attempting to introduce an aggressive market in UK higher education and concentrating increasingly scarce resources on a select few, there is likely to be further trouble ahead for all but a small elite group."
London based universities Imperial, UCL and LSE improved their positions as did Edinburgh University while Manchester University made it to 47th place.
King's College maintained its place in the top 70 global universities. Bristol University remained in the top 100, despite slipping down the rankings since 2011.
Mr Baty said that while the table was dominated by western universities, East Asian institutions were quietly gaining ground.
The University of Tokyo is now in ninth place, Japan has five institutions in the top 100, Singapore and Hong Kong three each, China and Korea two each and Taiwan one.
"We are seeing a trend of Asian universities rising, making more of a mark globally," said Mr Baty.
'Losing stature'
"Some UK institutions are losing stature by comparison and it is partly because of an acknowledgement by some East Asian governments that spending on universities is vital to their economies."
Mr Baty had advice for England's universities minister: "If I were David Willetts I would take this table to the Treasury and argue that we need to protect university funding in order to stay competitive."
A spokeswoman for the Department for Business, Innovation and Skills said: "The UK has a global reputation for excellence in higher education. We have strong institutions, a world-class research base and dedicated staff.
"To stay ahead in the global race, we are protecting the research budget, making UK research more accessible and delivering a better student experience."
Labour's shadow universities minister Shabana Mahmood said the downward trend should cause concern: "With other nations around the world investing heavily in higher education with governments that are more welcoming to legitimate international students, the government should take a long hard look at its policies."
Wendy Piatt, of the Russell Group, urged the government to "concentrate investment where it really matters". She added that UK universities punched well above their weight with seven in the global top 50 despite the government spending less on higher education than most developed countries.
"We are concerned that our global competitors in the US, East Asia and Europe are pumping billions into higher education, and as these results show money really matters."
Nicola Dandridge, of Universities UK, said the tables showed that the UK continues to have the second-strongest university system in the world after the US but: "We should remain acutely aware that other countries are investing more than the UK and our reputation as a world-class provider of higher education is not a foregone conclusion."
Sally Hunt, of the University and College Union, added: "It is unlikely that recent negative headlines around the world about the UK threatening to deport students, coupled with changes to how students are classified for migration figures, will have done much to enhance our reputation on the international stage."