Ofsted chief Sir Michael Wilshaw wants paid governors
By Sean Coughlan
BBC News education correspondent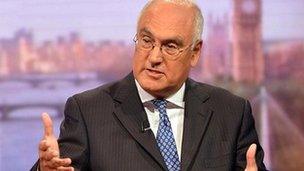 Ofsted's chief inspector says he wants some school governors in England to be paid and to provide more professional leadership.
Sir Michael Wilshaw has launched an online at-a-glance report card for each school, which he wants governors to use to hold head teachers to account.
He also attacked governors who were "ill-informed" and "not able to make good decisions".
But the National Governors' Association says it opposes paying governors.
"Governors can do a professional, businesslike job without being paid," said Emma Knights, the association's chief executive.
And she said that most of the information in the new online reports - called the "School Data Dashboard" - was already available, and that "most governing bodies will be using more detailed data".
"We are all on the same mission, the question is how you do that," she said.
In a speech on Wednesday, Sir Michael said weaknesses in leadership, including governing bodies, were a common problem among the 6,000 schools rated less than good.
He likened the worst governors to jurors who were incapable of understanding their responsibilities in a court case.
The Ofsted chief launched the School Data Dashboard to provide information for an estimated 300,000 school governors.
This data, also available to the public, will provide key information about the performance of every state primary and secondary school.
Sir Michael said this would make sure that governors understood their schools' strengths and weaknesses.
"But for those that don't, there are now no excuses. Inspectors will be very critical of governing bodies who, despite the dashboard, still don't know their school well enough," Sir Michael said in a speech in London.
He praised the best governors for focusing on the "big issues", such as "the quality of teaching, the progress and achievement of their pupils, and the culture which supports this".
But he condemned weak governing bodies for paying too much attention to what he called "marginal" concerns.
"Too much time spent looking at the quality of school lunches and not enough on maths and English," Sir Michael said.
"In the worst cases, governors can be rather like the jury that was dismissed from a high-profile trial last week: ill-informed and not able to make good decisions."
A large majority of school governors are unpaid volunteers from the local community.
Sir Michael repeated his calls for some governors to be paid.
An Ofsted spokeswoman said that offering incentives might attract talented governors to very challenging schools.
This could be "more than just expenses", she said.
But Ms Knights said that volunteering was an important part of the ethos of parents and the community supporting local schools.
There are already provisions for paying governors in certain circumstances, such as where temporary governing bodies are installed to turn around a failing school.
Ms Knights argues that in most cases there is no evidence that schools would be improved by paying governors.
The E-Act academy chain has backed calls for paid governors.
Director general, Sir Bruce Liddington, said schools needed to be "supported and challenged by excellent governors".
He said that in Blackley Academy in Manchester the chair of governors has been "remunerated to carry out the role".
The Association of Teachers and Lecturers rejected the proposals, questioning Ofsted's independence and saying the watchdog resembled an "over-stretched arm of government".
"We do not believe Ofsted has either the capacity or the respect to effectively deliver training for governors and heads," said ATL leader Mary Bousted.
Brian Lightman, general secretary of the Association of School and College Leaders, cautioned against the over-simplified use of school performance data.
"All data, especially 'simple' statistics, comes with a health warning. It should encourage people to ask more questions, not to draw premature conclusions," said Mr Lightman.
Related Internet Links
The BBC is not responsible for the content of external sites.