End funding disadvantage for sixth-form colleges, MPs urged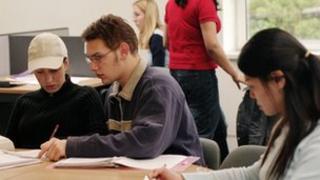 The government should "level the playing field for post-16 education" in England, the Sixth Form Colleges Association will tell MPs on Tuesday.
Sixth-form colleges suffer an unfair disadvantage in funding, a paper from the association will say.
It will highlight official figures showing median funding per pupil in secondary academies is £7,880 - but only £4,601 in sixth-form colleges.
The government said from 2015 reforms "would end a historic unfairness".
Some 150,000 16-18-year-olds are currently studying at England's 94 sixth-form colleges - but funding difficulties mean many colleges fear for the future, says the report.
'Best in class'
It says the colleges outperform all other providers of 16-18 education, in terms of value for money and outcomes for students, with inspections judging 76% of sixth-form colleges "good" or "outstanding".
Some 14% of students accepted to higher education come from sixth-form colleges, while independent schools supply 10%, says the paper. And sixth-form colleges tend to attract students with lower GCSE grades and higher levels of deprivation than either academies or school sixth forms.
But sixth-form pupils attract less funding than younger age groups - and unlike schools or academies, sixth-form colleges are charged VAT on goods and services and have to pay their own insurance costs.
On top of this, says the paper, sixth-form colleges have been hit hard by cuts, while the government has offered preferential funding to academies and free schools with sixth forms.
It calls for students to receive the same amount of funding for their education, irrespective of the type of institution at which they study.
"It makes little sense for the government to be actively promoting the establishment of new sixth-form providers that are not only demonstrably less efficient than sixth-form colleges, but also have little or no educational track record", said David Igoe, of the Sixth Form Colleges Association.
"Our members do not want special treatment. They just want to be treated like other sectors.
'Ideal vehicle'
"We are the ideal vehicle for the government to realise its policy objectives, but it's hard to remain the star player when you are forced to play uphill against the opposition."
The paper calls for a series of measures to improve the financial position of the colleges, including better funding per student, a VAT exemption and an insurance rebate.
It also calls on the government to create a mechanism for sixth-form colleges to grow and to "promote the sector in the same way that academies and free schools are actively promoted by government".
The paper will be presented to MPs at a reception to mark the launch of an all-party parliamentary group for sixth-form colleges.
A spokesman for the Department for Education said it had announced funding reforms that would end the "historic unfairness on sixth-form colleges that built up over many years".
"By 2015, all schools and colleges will receive equivalent rates of funding per learner. Schools will no longer receive more money for teaching fewer students than colleges."
The spokesman also said that the figures quoted by the Sixth Form Colleges Association were "misleading" as they related to funding for two different age groups. The figure of £7,880 was for 14- to 16-year-olds, said the spokesman, while the figure of £4,601 related to 16- to 18-year-olds.
Labour's shadow schools minister, Kevin Brennan, said: "Worryingly, we have seen the biggest cuts to education spending since the 1950s under this Tory-led government, and it is clear that some sixth-form colleges are struggling as a result."
Mr Brennan added that the issue was particularly urgent with the school leaving age being raised to 18 from 2015: "We need to address this big change in our schools and colleges head on not just tinker round the edges."