Child poverty 'should be tackled not measured'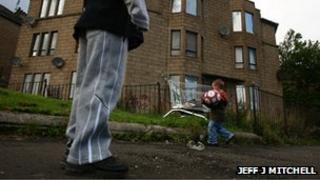 The government should focus less on how to measure child poverty and more on how to eradicate it, a leading children's charity has argued.
A National Children's Bureau (NCB) report asks if, with child poverty forecast to rise, the government's approach is robust enough.
The study calls for an urgent rethink of the current strategy.
The government said it was "committed to eradicating child poverty... by tackling the root causes".
The report highlights official estimates that more than a quarter of UK children (27%) - or more than three million - live in poverty
A child is considered to be living in poverty if their family income is less than 60% of the UK median.
It says that, while child poverty is at its lowest level since the 1980s, a 2011 study by the Institute for Fiscal Studies predicted that 400,000 more children would be living in relative poverty by 2015-16, partly as a result of changes to the tax and benefits system.
The report's authors say child poverty is "corrosive", with poor children missing out on good housing and a proper diet, and likely to underachieve at school.
They call for a "child poverty board" of ministers to hold all government departments to account, an increase in the number of free hours of early years education and more affordable after-school care.
Other suggestions include cash incentives for parents who promote their children's wellbeing and new "neighbourhood anti-poverty innovation zones", with match-funding from the business sector.
The authors acknowledge that the coalition government sees tackling child poverty as "an important goal".
But Enver Solomon of the NCB urged the government "to think more creatively" and examine initiatives in other countries.
"By drawing on approaches from abroad and applying them in the UK, we can not only improve the finances of poorer families but encourage them to engage with services that bring real improvements to health and well-being, so increasing their resilience.
"Government must focus less on how to measure poverty and act decisively to introduce robust mechanisms for ensuring that progress in the fight against child poverty is swift and permanent."
'Multi-dimensional measure'
A spokeswoman for the Department for Work and Pensions responded: "This government remains committed to eradicating child poverty but we want to take a new approach by tackling the root causes including worklessness, educational failure and family breakdown.
"Our welfare reforms will improve the lives of some of the poorest families in our communities with the universal credit simplifying the complex myriad of benefits and making three million people better off."
The spokeswoman criticised the approach taken by the previous government which "failed to meet" its target to halve child poverty by 2010 "despite paying out £171bn in tax credits over the last decade alone".
The government's consultation on a new "multi-dimensional measure of poverty" ends on Friday. The proposed new measure would include income as well as wider issues such as employment, family stability and education levels.
The plan has drawn criticism from the charity Barnardo's which says it will make it harder to measure poverty in a meaningful way as it "conflates the causes, consequences and definition of poverty".
Anne Marie Carrie of Barnardo's said: "What is needed now is less talk and more action to help the most disadvantaged families. Barnardo's is urging the government to keep measuring income but also to help families climb their way up and out of the poverty trap."