The challenge of providing good PE lessons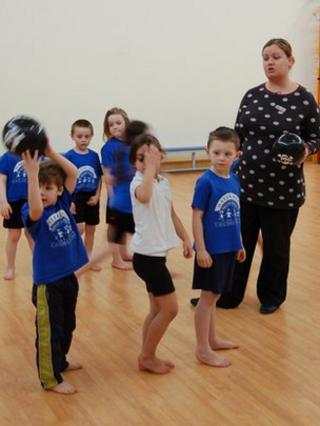 As concerns are raised about the quality of school sport, the BBC News Website visits a school which wants to build on the Olympic legacy but feels challenged by a lack of specialist support.
Newly-qualified teacher Zoe Chilton had around 18 hours training in PE during her three-year teacher training course.
Now, less than six months into her first job, she is running a PE lesson for five and six-year-olds at Water Hall Primary in Bletchley, Buckinghamshire.
The pupils are getting a good workout. "We need to get our hearts beating faster. So we are going to play Simon Says.
"Simon says jump up and down. Simon says put your hands in the air and don't stop jumping.
"Simon says slither like a snake - use those muscles in your arms."
Her boss, head teacher Tony Draper, looks on.
"She could be developed massively in this area if we had a primary sports specialist to work with her," says Mr Draper.
"This lesson is great but I would like her to know how to take it further.
"What should she be telling them about what they should be feeling in each exercise and what should she be doing next to further their physical development?"
Key to success
Water Hall serves Bletchley's Lakes estate, where some 94% of families are in the poorest income brackets. Almost two thirds of the children are on free school meals, a key indicator of poverty.
Despite the deprivation pupils achieve well, with 96% reaching the required standards in reading and maths by the time they leave for secondary school.
Mr Draper says an emphasis on PE is key to the school's success.
"Enabling them to have success in sport and PE gives them the tools to build their self-esteem and once they start to think they can do something well, their learning improves."
But he worries that recent cuts to school sport funding will make this much harder to achieve.
Olympic buzz
When the Olympic torch passed through Bletchley last year, the school was buzzing with excitement. Pupils say they were inspired.
"I want to be a diver," says 10-year-old Cerys. "I like Tom Daley. Now I do so much more sport than I used to. Every weekend I go on bike rides and jogging."
Classmate Sarah-Jane loved the gymnastics: "I really enjoyed it because I am a gymnast myself. My family think I can definitely make it one day - and I think - maybe."
Kai, also 10, likes cricket. He says: "We did it last year with our teacher. I am good at it and sometimes I play in the park with friends."
Despite the enthusiasm, the children sometimes struggle to say what they are doing to make their dreams become reality. On a poor estate, there is a shortage of specialist sport clubs to build on the momentum of the Olympics, so school sport is important.
Mr Draper is frustrated that the enthusiasm generated by London 2012 has not been built on and is in danger of being wasted.
"You have the enthusiasm there, but not the funding and resources.
"All that brilliant lead-up and engagement is in danger of being lost and for the government to allow that to happen after the brilliant Olympics is just criminal.
"A whole generation are at risk of missing out."
Sport specialists
He says that teachers were just as excited as their pupils and were keen to grasp the enthusiasm but there was never a will behind it from government, particularly in the wake of cuts to schemes like School Sport Partnerships.
One of the first moves by the coalition was to scrap the £162m scheme in England. In fact, it survived after a campaign by teachers and athletes, but on around a third of its original budget.
Ministers argued that the scheme had failed in its remit of increasing physical activity and competitive sport among young people.
But Mr Draper says his school's ability to provide its pupils with a strong physical education has definitely been harmed by the loss of funding.
"We still provide a lot of sport here but it has gone down. We want it to go up again.
"The provision for teaching specific sports and competitive games has shrunk."
Nina Sweetland, school games co-ordinator at nearby Sir Herbert Leon Academy, was development manager for the local school sport partnership.
Ms Sweetland says a drop in funding has meant fewer chances for teachers to develop their skills and less training for them in running inter-school competitions and after-school clubs. So staff are less confident in their PE teaching abilities and there has been a steep drop in the numbers of children doing two or more hours exercise a week.
She says that primary school PE needs extra support because schools are measured on numeracy and literacy so that is what they tend to focus on.
Mr Draper says PE should be a core part of the new curriculum. In an ideal world he would like to have access to a safe, flat sports area. In particular he argues for the government to fund an army of around 100 primary PE Specialists who would spend a day a week for a term in every school in England to raise the profile of PE and improve teachers' expertise.
A Department for Education spokesman said it was working across government on a range of measures to improve PE and school sport as part of the Olympic and Paralympic legacy and is set to announce new plans in due course.
But Mr Draper concludes: "Every teacher does their utmost to get the most of their children physically but sometimes they just don't have the resources or the training, particularly compared with private schools.
"I would love to have an Eton Dorney in my field but it's just not going to happen."