Sussex students occupy university buildings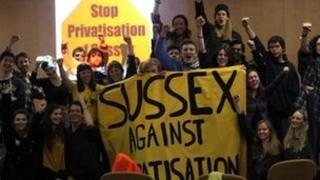 A group of students are mounting an occupation of Sussex University buildings in protest over plans to privatise support services there.
The sit-in at the university conference centre follows a 300-strong staff and student protest on Thursday over plans to outsource 235 campus jobs.
The demonstrators say they resorted to the peaceful protest after their views were ignored.
The university says it wants to improve its campus services as it expands.
It stressed that there would be no redundancies and that all staff would be transferred to new employers under legislation governing transfer of undertakings in the public sector.
'Unpopular'
But the demonstrators said: "We stand in opposition to the attempts by university management to unilaterally impose a highly unpopular wave of privatisations which will see provision of services handed over to the highest bidder.
"As well as a colossal transfer of wealth from the public to the private sector, privatisation has time and time again been shown to negatively impact on employees and service users."
They added: "In the past, all surplus generated from the provision of these services has been reinvested in the university's facilities - Sussex stands to see that surplus extracted by private companies and financiers if these plans go ahead."
One second year law and international relations student said it was deplorable that private firms could make profit from student tuition fees.
The protesters called for a halt to the bidding process and the privatisation plans and for a new commission of students, staff and lecturers to be formed to hold management to account.
Trade unions
University of Sussex registrar John Duffy said: "This is a long-term strategic development by the university to ensure that we can enhance and develop the high-quality services we provide to our students and staff as we grow, with student numbers increasing from fewer than 11,000 in 2008 to a projected 18,000 by 2018."
The university added in a statement that it was providing information and support to those staff who will be transferring to external partners.
"We also continue to meet and discuss our plans with the three campus trades unions. We are also keeping other staff and students informed about the process."
It added that the protest being staged by about 40 students in one room on campus is not a part of the many constructive discussions already under way.
But the protesters say a growing number of students have been joining the protest.