School curriculum slimmed down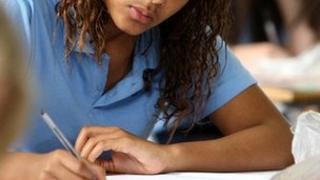 The government has published its plans to slim down the national curriculum followed by primary and secondary schools in England.
Foreign languages will be compulsory for older primary school children.
And computing will replace the more general information and communication technology (ICT) subject, as expected.
The new curriculum sets out detailed "essential knowledge" expected for core subjects of English, maths and science from children aged from four to 16.
But schools are to have more freedom in what they teach on other subjects, so there is less detail on those.
The new courses for children up to the age of 14 are due to come in from autumn next year. GCSE-level changes are due to come in a year later, tied in with changes to GCSEs for some subjects.
The curriculum has to be followed by state-funded schools that are not academies.
More and more schools - especially secondaries - have become academies. These are free to set their own curriculum, although the government says the national framework it is setting out can be a guide for them.
The new draft proposals for the curriculum say all state-funded schools must provide an education that is "balanced and broadly based and which promotes the spiritual, moral, cultural, mental and physical development of pupils at the school and of society, and prepares pupils at the school for the opportunities, responsibilities and experiences of later life".
All schools have to publish their curriculum online.
'British progress'
The government says the new curriculum will promote more rigour in mathematics, where there will be a greater emphasis on arithmetic, while scientific programmes will be "more ambitious" with a stronger focus on scientific knowledge.
For the first time, primary school children will have to taught about evolution.
In English, officials say the curriculum should "embody higher standards of literacy" and have a new emphasis on the great works of literature.
Another aim is "to develop their [children's] love of literature through reading for enjoyment" and to help them "appreciate our rich and varied literary heritage".
As expected, there is also an aim to help children learn confidence in public speaking and debate.
In history, children should be given a clear "narrative of British progress" with an emphasis of heroes and heroines of the past, the proposals say.
As expected, children will learn a complete history of Britain under the new curriculum.
The youngest children, as today, will be taught about key historical figures and from seven, youngsters will be expected to learn a detailed chronological history of Britain, from the Stone Age through to the end of the Cold War and the fall of the Berlin Wall.
In geography, there will be a focus on using maps and learning key geographical features - from capital cities to the world's great rivers.
Computing replaces ICT and this will include online safety and programming.
The plans for children from four to 14 are out for consultation and a further consultation on GCSE-level changes will follow later.