Call for 'rigour' in national curriculum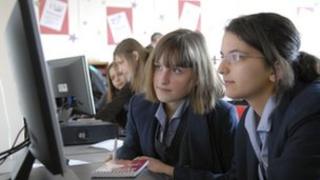 An "outdated" measure of educational achievement, focused on a narrow group of academic subjects, is being pushed by the government, Labour has claimed.
The party said Education Secretary Michael Gove thought children should only follow academic qualifications.
Shadow education secretary Stephen Twigg said he wants "rigour in the whole curriculum" in England, rather than in selected subjects.
Mr Gove is to set out a new curriculum for primary and secondary schools soon.
Speaking at the Social Market Foundation on Monday, Mr Gove said that pupils should have a "stock of knowledge" about history, culture, maths and science in order to understand the world around them.
Vocational training
But Mr Twigg told the Policy Knowledge conference: "Yesterday the education secretary perpetuated one of his many myths.
"For him it's only aspirational to pursue an academic route. This is one of the many false choices that he argues.
"I believe that high quality vocational education is something to aspire to, and as the evidence shows from many high-performing countries in vocational education - like Switzerland and Germany - it's the high-flyers who choose to study it.
"I want high quality academic and high quality vocational education.
"In setting out a narrow, outdated measure for success, viewed exclusively through the prism of the EBacc, the education secretary is saying that young people will only be successful if they study a narrow group of subjects.
"While he talks about rigour in a few subjects, we want rigour in the whole curriculum."
Mr Twigg said his party wanted to see a Technical Baccalaureate, taken at the age of 18, with compulsory maths and English, with the option of a high level apprenticeship at the end of it.
"This is not dumbing down, this is raising aspirations and skilling young people so that Britain can compete in the global race.
"But for too long, we have neglected excellence for all in vocational and technical routes. I want to see more young people becoming apprentices for the likes of Rolls-Royce and Accenture.
"What is it about these highly competitive pathways that leads Michael Gove to believe they are not excellent?"
Gove's plans
On Monday, ahead of the publication of a new curriculum, expected any day, Mr Gove outlined the ideas behind his plans for the curriculum.
"Unless you have a stock of knowledge - about our nation's history, European history and art history, about Biblical stories and classical myth, about colour, line and perspective - then many of the works on display in the National Gallery will just be indecipherable cartoons.
"Unless you have a sense of our nation's political development and a decent vocabulary, and an appreciation of concepts like anointed monarchy, usurpation and legitimacy, then Shakespeare's history plays will just be fighting and shouting.
"And unless you know something of Ireland's history, its people's sufferings, its ecology and iconography as well as a scientist's vocabulary, then Seamus Heaney's poems may be little more than spoken music.
"And unless you have knowledge - historical, cultural, scientific, mathematic - all you will find on Google is babble."
A Department for Education spokeswoman said: "The core academic subjects most valued by universities and employers are those that make up the EBacc. Far from being outdated, this new standard will make sure that all children have a solid foundation for the path they wish to follow.
"We are also overhauling the vocational education system to recognise only the highest quality vocational courses, we are introducing a new Technical Baccalaureate and we have given the go-ahead to more than 30 studio schools which offer practical education combined with work experience."