Massachusetts: Pioneering Gove's knowledge curriculum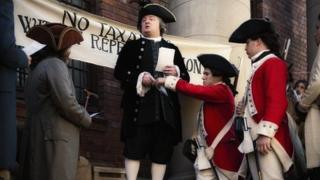 Education has been undergoing its own rapid process of globalisation - with countries looking around the world for ideas to improve their own education systems.
Education Secretary Michael Gove has run the rule over Scandinavia's education superpower, Finland, and rising Asian economies such as Singapore.
For the forthcoming curriculum changes in England, Mr Gove has highlighted the example of Massachusetts in the United States.
Mr Gove has called for pupils to have a core of knowledge, a set of basic facts and information that can become the foundation for more advanced work.
It is a view influenced by the US academic, ED Hirsch, who argued that students who possessed a broad base of key knowledge were much better equipped to understand and interrogate more complex ideas.
Massachusetts sets its pupils such targets - with its "common core of learning", introduced as part of education reform legislation in 1993.
This meant that the 900,000 students in state schools in Massachusetts would have a curriculum setting out the core knowledge they would be expected to have learnt in each age group.
'Democratic value'
A commission of 40 members held hearings around the state to decide what should be included in this core canon of knowledge, with an estimated 50,000 people taking part in the debates.
According to the state's education department, this core was intended to "reflect what citizens highly value and see as essential for success in our democratic society".
It also deliberately set out to equip youngsters to work in a globalised economy, in which US industries would be challenged by international competitors.
The subject frameworks of this curriculum have an overarching goal.
For instance, for history it says pupils should understand the emergence of an independent United States and its constitution - accompanied with a stricture to respect its ethnic and cultural diversity.
But it also sets out specific pieces of information. So for history and geography, six to seven-year-olds should know the name of the current president and be able to find Washington DC and Boston on a map.
They would also be expected to have heard stories about "famous Americans of different ethnic groups, faiths, and historical periods", with a suggested list including Neil Armstrong, Cesar Chavez, the Wright Brothers, Colin Powell and Bill Gates.
A year later they are expected to be know all the world's continents and to be able to identify five world rivers, Mississippi, Amazon, Volga, Yangtze and the Nile. By the ages of eight to nine, pupils will be expected to understand the importance of the Boston Tea Party and the Battle of Bunker Hill.
This progresses upwards with increasing complexity to the end of secondary level education - where a study of world history requires an analysis of the role of specified Russian leaders in the break-up of the Soviet Union.
Curriculums in every country or school system have expectations for levels of achievement, but the Massachusetts system is characterised by a particular focus on lists of specific pieces of information.
Global rankings
But has it been successful?
Teenagers in the state have performed strongly in the most recent global rankings for maths and science, published in December in the TIMSS (Trends in International Math and ­Science Study) report.
The performance of Massachusetts was much more successful than the US average - and was at a level that would put it among top performing science and maths countries such as Singapore, South Korea, Hong Kong and Japan.
The influential Pisa test rankings, published by the OECD, put Massachusetts as the highest performing US state - but against a background in which the US has become an educational underachiever.
According to the OECD, the US has the distinction of being the only industrialised country where the next generation is not going to be better educated than the previous - in a form of educational downward mobility.
There has been a surge of interest in such international education comparisons.
And for education ministries trying to reinvent their curriculums and qualifications, such global comparisons are becoming a key factor.
Instead of the endless internal ruminations about whether improving results are a sign of slipping standards - the more relevant question might be how well today's pupils are performing compared with their peers in other countries.
For instance, in England in the early 1980s only about 10% of the year group achieved three A-levels. Now the figure is about 60%.
Does that mean that today's teenagers are six times better educated than their parents' generation? Are they six times more clever? Or does it mean it is a very different education system serving a very different labour market?
And what should pupils from Boston to Birmingham, Shanghai to Stockholm, be learning for their futures?