Wales and England divide on exams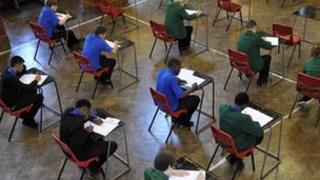 The UK's exam system faces greater fragmentation - with the Welsh government rejecting changes planned for GCSEs in England.
Jeff Cuthbert, deputy minister for skills, pledged the "best for students" in Wales, even if it meant "diverging from England and the rest of the UK".
GCSEs will be retained in Wales while there are plans for them to be replaced in key subjects in England.
Northern Ireland is carrying out its own review of GCSEs and A-levels.
The decision marks a significant split between the qualifications systems in England and Wales, which have so far shared a common system of A-levels and GCSEs.
Scotland has its own exam system and Northern Ireland is carrying out its own review, raising the prospect of qualifications across the UK following separate paths.
'Untenable'
The announcement on Tuesday will see teenagers in Wales continuing with GCSEs, while pupils in England are set to move to English Baccalaureate Certificates in key subjects such as English and maths.
In Wales there will also be new GCSEs in English Language, Welsh First Language and maths.
This will be part of a Welsh Baccalaureate which will be taught from September 2015. At the same time, the English Baccalaureate Certificates will be introduced for core subjects.
"We will retain GCSEs and A-levels. Where necessary we will strengthen and amend these, but ultimately we have confidence in these well-established qualifications, which are recognised around the world," said Mr Cuthbert.
Changes have also been announced for A-levels in England by Education Secretary Michael Gove - but the Welsh government did not suggest that it would follow.
"We will consider the implications for Wales of Michael Gove's recent unilateral announcement on A and AS levels, which was not shared with us in advance, as we would have hoped under our concordat with DfE. On the face of it, the proposal for England has little appeal," said Mr Cuthbert.
Head teachers in Wales welcomed the decision to reject the changes proposed for England.
"There is no reason why Welsh students should be disadvantaged, as long as the qualifications are implemented properly and are of a high quality. English universities have been taking Scottish and overseas students for years and they manage the transition well," said ASCL Cymru's Gareth Jones.
For university admissions, GCSEs and A-levels in England and Wales are currently seen as the same, but they now seem set to become different qualifications.
Speaking earlier this month in the National Assembly, the education minister Leighton Andrews said he recognised the importance of the "portability" of shared qualifications, but warned the "current arrangements and structures are becoming untenable".
"Unilateral announcements from Westminster about our shared qualifications undermine the three-country arrangements," said Mr Andrews.
There are already changes approved for education in Wales, such as the creation of Qualification Wales, which will become a separate exams watchdog.
Northern Ireland faces a similar decision on whether to follow the changes announced in England or to maintain the existing system or to develop another.
Education Minister John O'Dowd announced a "fundamental review" of A-levels and GCSEs, which is expected to be completed by June 2013.
A Department for Education spokesperson said: "The Welsh education system is a matter for them.
"We are solely concerned with doing what is best for English students. That is why we are transforming the education system to raise standards in this country to prepare pupils to compete in a global jobs market."