Homeless sign up for Recovery College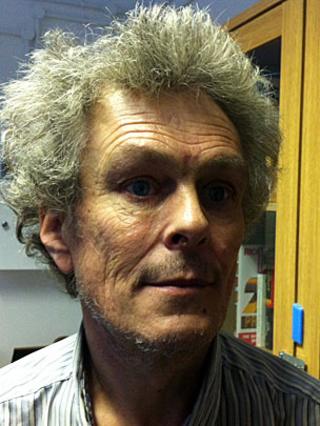 An innovative college for homeless people in London, the first of its kind in the country, is attracting hundreds of students.
Recovery College, set up in Southwark by St Mungo's charity, is providing courses which improve practical skills and help to rebuild confidence.
There are no charges, no entry requirements and students help to design and deliver the courses.
These range from help with literacy and music to raising self-esteem. There are courses for tough lives on the streets - overdose awareness, first aid and how to feed yourself on a small budget.
They include what volunteers can offer, such as singing lessons arranged through the Guildhall School of Music.
Each night the charity looks after about 1,700 people in London and the South East of England - and most of these will previously have been sleeping rough.
Cold weather brings homelessness into sharper focus. The makeshift bedding around the warmth of buildings seems more brutal and isolated as temperatures fall.
But the experience of the fledgling college suggests that homeless people want more than temporary support.
Self-confidence
Launched as an experiment in autumn 2012, the college was taken aback by the demand and found would-be students knocking on the door. At the start of the second term, there are now 395 people enrolled on 60 courses.
The most popular courses have proved to be about raising self-confidence and developing self-esteem, says Andy Williams, who helps to organise the college.
This reflects the corrosive quality of homelessness and how it isolates individuals.
As an indication of its importance, a student at the college has taken three bus journeys from north London to get there. Steve, now in his 50s, says how much of a difference it makes to "have a bit of confidence".
Drifting out of school by the age of 12, his dyslexia not recognised at the time and "seen as an illiterate", he talks about his depression and drinking.
Now he is making a belated re-entry into education. He speaks with enthusiasm for the project - and says the courses he is taking have to be better "than sitting there with a can in my hand".
There are other courses aimed at developing skills to help people get jobs.
Once a student has taken six of these free-form courses they can be considered for something more formal. The college has links with Ruskin College in Oxford and the City Lit in London.
But this isn't going to be a traditional academic ladder.
"The college provides a structured environment for people - but without some of the demands of mainstream education. It seems to be filling a gap," says Stuart Bakewell, St Mungo's area manager.
Student identity
The status of "student" is itself important for people who are used to other labels being attached to them. It's also seen as important that it's located in its own separate building.
Another college attender, David, in his 50s, talks about using college courses as a fresh start - and a way to build more successful relationships than in the past.
"It's a chance to find out what went wrong. We're all in the same boat, we have to sort this out.
"The Recovery College shows you can do it."
Being students is a sign of equality, he says. He also talks about the importance of the social aspects of learning for people who might otherwise spend many hours alone.
"Having a laugh in class" is even more important among people who have vulnerable, dangerous, stress-filled lives.
Success is measured in small steps. Even volunteering takes a level of confidence - and there are plans to help students from the college to become volunteer helpers in a London museum.
Homelessness is often linked to other problems. People might have been through institutions and addictions. Many homeless people will be functionally illiterate.
"The vast majority didn't have a good time at school - so this is showing it can be enjoyable," says Mr Williams.
There is also a growing homeless population. According to St Mungo's, the number of rough sleepers in London is rising sharply - up by more than 40% in a year.
Getting them out of the cold is a start. "We want to be more ambitious for them," said Mr Williams.